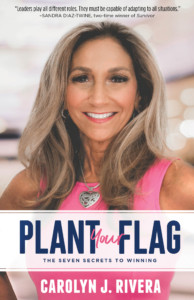 NEW YORK—March 24, 2020— Morgan James' new release called Plant Your Flag: The Seven Secrets to Winning, by Carolyn Rivera, encourages women who struggle with leadership to hone their skills and rise above the status quo. Through personal stories, relatable examples, and specific calls to action, Rivera teaches women to take control of the ever-changing environment in their personal and professional lives. 
In years past, leadership was thought to be reserved for the driven, the gifted, and the exceptional. This is true for all women, no matter if they are stay-at-home moms or corporate business owners. According to Carolyn Rivera, all women have the capability to decide and control how their story plays out. Plant Your Flag tells why having passion, conviction, and courage to stand out is imperative when it comes to conquering the personal and professional challenges.
Taking from her own experiences as a finalist on the TV show Survivor, Carolyn Rivera sheds light on what it takes in order to achieve victory in all aspects of life. She claims any leader's decisions are susceptible to the influence of cultural norms, commonly-accepted practices, and the multitude of personalities that others bring to the table. In establishing strong leadership skills, Rivera challenges women to discover what type of leaders they really are, and provides the tools for them to accomplish their goals. 
If you would like more information about this topic, or to schedule an interview with Carolyn Rivera, please call Nickcole Watkins at 516.900.5674.
About the Author: Carolyn J Rivera is a speaker, author, radio host, leadership expert/coach, trainer, and reality television star. Carolyn's spent over 30 years in the corporate world coaching leaders and delivering leadership training for thousands of people in over 16 countries around the globe.  Her personal areas of expertise include leadership development, change management, talent management, performance management, and executive coaching. Carolyn focuses on building tomorrow's leaders. She delivers customized Keynote Speeches, Training Programs and Workshops that show people how to achieve results far beyond their initial expectations. Carolyn auditioned for four years before she was selected as a contestant on the CBS hit reality show of all time "Survivor". She was tireless in her ambition and motivation, which was ultimately recognized when she finished as runner up.  Carolyn was sought after to launch her own radio show in 2018. She currently resides in Wimauma, Fl. 
More About This Title: Plant Your Flag: The Seven Secrets to Winning by Carolyn Rivera, will be released by Morgan James Publishing on March 24, 2020. Plant Your Flag—ISBN 9781642795653—has 176 pages and is being sold as a trade paperback for $17.95. 
About Morgan James Publishing: Morgan James publishes trade quality titles designed to educate, encourage, inspire, or entertain readers with current, consistent, relevant topics that are available everywhere books are sold. 
( www.MorganJamesPublishing.com )
# # #