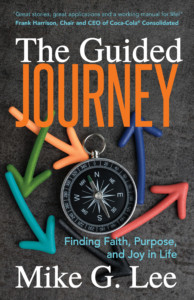 NEW YORK—February 4, 2020—Morgan James's new release, The Guided Journey: Finding Faith, Purpose, and Joy in Life, by Mike G. Lee, reveals how to let go of everyday expectations to discover an individual's true purpose. As a consultant of Fortune 500 companies for over 25 years, Mike G. Lee understands how to strategically transform businesses for increased success. Lee applies the techniques he learned in business to the details of everyday life, helping career-minded individuals to discover God's will and purpose for their journey. 
Mike G. Lee understands that the majority of people struggle to find career and job satisfaction, but he doesn't suggest that these frustrated professionals leave their current positions in search of "greener pastures." In The Guided Journey, Lee shares a proven, ten-step process for people to learn their God-given purpose and set a new course for their life. Lee includes transparent stories from his life, explaining the struggles of trying to juggle and balance life as a husband, father of three, consultant, entrepreneur, and a person of faith. He explains to working adults how they can refocus their vision and priorities for both career and family life, while they rediscover meaning and joy along the way. 
The Guided Journey provides working professionals the opportunity to analyze their own experiences and gifts in order to clearly articulate what is missing and what they are looking for in life. Mike G. Lee emphasizes the need for a personal relationship with God and Jesus Christ while teaching adults how to trust God during life's most difficult moments. Lee uses biblical, historical, and current examples that augment his own experiences in order to display the true peace and joy that comes from abiding in Jesus. He offers specific evidence and testimony of how God makes himself known in simple and miraculous ways. 
If you would like more information about this topic, or to schedule an interview with Mike G. Lee, please call Nickcole Watkins at 516.900.5674
About the Author: Mike G. Lee is the President and Founder of Independence Consulting. With 25+ years of experience in business transformation for Fortune 500 companies and Public Sector businesses, this is the third business he has built. As the former president of North Highland, a global consulting firm with more than 1,200 professionals in 25 cities around the world, Mike was a key driver of North Highland's international expansion and Cordence Worldwide partnerships. He holds a bachelor's degree from Virginia Tech with a major in accounting. Mike is a member of Elevation Church, a Southern Baptist affiliated church based in Charlotte, North Carolina. He is Co-Executive Producer of the film Appointments with Heaven and Executive Producer of another, Hope's Wish. Originally from Somerdale, New Jersey, Mike resides in Davidson, North Carolina with his wife, Kelli, and his children: Alex, Cami, and Olivia.
More About This Title: The Guided Journey: Finding Faith, Purpose, and Joy in Life, by Mike G. Lee, will be released by Morgan James Publishing on February 4, 2020. The Guided Journey —ISBN 9781642795387—has 218 pages and is being sold as a trade paperback for $16.99.
About Morgan James Publishing: Morgan James publishes trade quality titles designed to educate, encourage, inspire, or entertain readers with current, consistent, relevant topics that are available everywhere books are sold. (www.MorganJamesPublishing.com)
 # # #