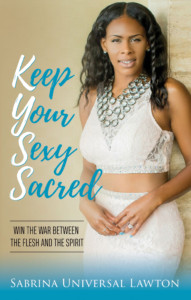 NEW YORK—February 11, 2020—Morgan James's new release, Keep Your Sexy Sacred: Win the War Between the Flesh and the Spirit, by Sabrina Universal Lawton, is an anointed delivery of truth about God and sex. Sabrina Universal Lawton bridges the perceived gap between the secular and the sacred with a new and compelling approach to understanding God. 
Keep Your Sexy Sacred explains that the root cause of spiritual deficiency experienced in the world is a limited view of God. Sabrina Universal Lawton believes that God has both feminine and masculine qualities, but that modern Christianity is prone to stifle and ignore God's feminine attributes. Lawton shares that when individuals are introduced to the feminine qualities of God, they learn how to see women as more than objects of visual pleasure and they embrace the creative power and wisdom of God's feminine energy within themselves. 
In Keep Your Sexy Sacred, Sabrina Universal Lawton exposes her personal testimony of sexuality, exemplifying how others can build their personal relationship with God and transform their struggle with lust into a life of love. Lawton is motivated to raise the Spiritual IQ of Christians and nonbelievers alike, as she believes that Keep Your Sexy Sacred can serve as a catalyst to heal the strained relationships between men and women. She wants to share Jesus' direct messages of love and acceptance with anyone battling lust or the scars of sexual abuse, as she believes that studying these biblical principles will dismantle religious dogma, demystify the original sin, and allow men and women to see the Bible like never before.  
If you would like more information about this topic, or to schedule an interview with Sabrina Universal Lawton, please call Nickcole Watkins at 516.900.5674
About the Author: Sabrina Universal Lawton left behind a lucrative 16-year corporate leadership career to found Evolve To Love, a spiritual advising organization created on the principle that "every problem has a spiritual solution." Sabrina has been featured as a host of Trinity Broadcasting Network (TBN) and has been a featured guest on a number of podcasts. When she is not helping God's children win the war between the flesh and the spirit, she enjoys living the dream in the Sunshine State of Florida with her loving husband, two children, and their family dog.
More About This Title: Keep Your Sexy Sacred: Win the War Between the Flesh and the Spirit, by Sabrina Universal Lawton, will be released by Morgan James Publishing on February 11, 2020. Keep Your Sexy Sacred —ISBN 9781642795431—has 218 pages and is being sold as a trade paperback for $17.95.
About Morgan James Publishing: Morgan James publishes trade quality titles designed to educate, encourage, inspire, or entertain readers with current, consistent, relevant topics that are available everywhere books are sold. ( www.MorganJamesPublishing.com )
 # # #