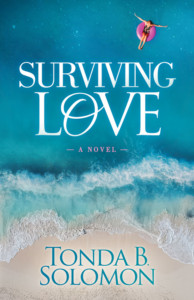 NEW YORK—March 10, 2020— Morgan James' new release, Surviving Love: A Novel by Tonda Solomon, challenges the ultimate promise between two people under the authority of God: "for better or worse, til death do us part." Tonda Solomon offers a realistic depiction of a self-focused marriage as it is tested with confronting temptations outside of marriage. Once infidelity penetrates a committed relationship, popular opinion often dictates separation. The right to personal choice over popular opinion and following one's convictions is weighed with the options of divorce and reconciliation in a marriage.
Surviving Love questions what external factors should be taken into greater consideration when considering divorce or mending and nurturing a once complacent turned broken marriage. A wife's acceptance of a one-sided demand for divorce after infidelity leads her on a journey of re-discovery. In Surviving Love, the idea of rekindling love for the sake of faith and commitment goes up against the potential for a new life and love interest. Solomon broaches the conflicting life choice between divorce or reconciliation, following the guidance of faith, happiness, and redemption. 
Surviving Love challenges what men and women think life should be like after twenty-five years of marriage, comparing it to commonly experienced realities. Not only does Tonda Solomon explore the option of reconciliation after infidelity, she also speaks to a life of redemption following a failed attempt at reconciliation. A love interest with a seedy past full of indiscretions sparks a need for rediscovery of faith and God. Sharing lessons learned through faith and past mistakes, Solomon delves into indiscretion turn redemption by counseling rather than pursuing to mend a marriage. 
If you would like more information about this topic, or to schedule an interview with Tonda Solomon, please call Nickcole Watkins at 516.900.5674.
About the Author: Tonda B. Solomon is an author and speaker who is passionate about communicating the sufficiency of Christ. After her husband Keith's affair, they made the decision to relocate their family from Georgia to Tennessee. It was a leap of faith that proved wisest for their marriage. They have learned much about themselves as they have allowed the LORD to quiet their fears. They have no doubt that they are better together, and this has allowed Tonda to write Surviving Love from a place of vulnerability as she uses her characters to illustrate the truths she has gleaned from seasons of heartache, restoration, and subsequently, mentoring of couples. She and Keith are now empty-nesters who celebrate each day of their almost 35 years of marriage while residing in Franklin, TN.
More About This Title: Surviving Love: A Novel by Tonda Solomon, will be released by Morgan James Publishing on March 10, 2020. Surviving Love —ISBN 9781642795967—has 214 pages and is being sold as a trade paperback for $14.95. 
About Morgan James Publishing: Morgan James publishes trade quality titles designed to educate, encourage, inspire, or entertain readers with current, consistent, relevant topics that are available everywhere books are sold. 
( www.MorganJamesPublishing.com )
 # # #