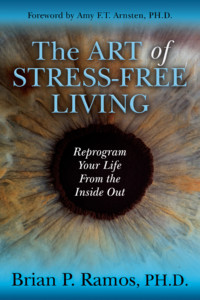 NEW YORK—March 10, 2020— Morgan James' new release, The Art of Stress-Free Living: Reprogram Your Life From the Inside Out, by Brian Ramos, PH.D. is a powerful approach to health and wellness that spreads to every aspect of life. Stress interacts with specific parts of the brain that are imperative in the functioning of everyday problem solving, emotion controlling and appropriate interactions. The average working woman struggles with stressors from interpersonal relationships and caring for family members to raising children and keeping a career. The combination of these stressors contribute to damaging effects on the brain, resulting in unhealthy responses. In The Art of Stress-Free Living, women learn to enrich their lives and empower their work efforts while reducing their body and brain's response to stress.
Once compromised by long-term exposure, stress breaks down the brain's ability to control necessary higher cognitive abilities. With real life examples, Brian Ramos takes the time to explain each of these functions and how, once encountered with stress, they each deteriorate and impact everyday life. Luckily, the effects of stress on the brain can be reversed. Using neuroscience and physical wellness trainings, The Art of Stress-Free Living shows how stress affects the mind and body, while teaching stress relief and coping mechanisms that bring self-wellness and relationship revitalization to a whole new level.
The Art of Stress-Free Living offers lifestyle changes and teachable habits that can reduce stress and inspire a better quality of life, both internally and externally. These practices help fight against potential chronic diseases that are linked to uncontrollable life-long stressors. Living better, breathing easier, and functioning more efficiently, are the core principles that Ramos teaches in every lesson.
If you would like more information about this topic, or to schedule an interview with Brian Ramos, please call Nickcole Watkins at 516.900.5674.
About the Author: Dr. Brian P. Ramos earned his bachelor's degree in Clinical Microbiology from the University of Puerto Rico – Mayaguez in 1999 before obtaining his Ph.D. in Neurobiology from Yale University in 2005. Brian is the author of numerous publications in the area of neuroscience and molecular psychiatry with a special interest in stress-related disorders, cognitive enhancement, aging, and behavior. He is a Dharma Mittra Yoga and Therapeutic Yoga certified instructor and certified to teach yoga for children and adolescents with or without neurodevelopmental issues. Brian is an assiduous student with a vast breadth of knowledge not only in his area of specialty, but in medicine, nutrition, health, Ayurveda, Spiritism, mediumship, psychic healing, meditation, and consciousness research. He lives with his wife and children in Miami Lakes, Florida.
More About This Title: The Art of Stress-Free Living: Reprogram Your Life From the Inside Out by Brian Ramos, PH.D. will be released by Morgan James Publishing on March 10, 2020. The Art of Stress-Free Living—ISBN 9781642795806—has 238 pages and is being sold as a trade paperback for $17.95. 
About Morgan James Publishing: Morgan James publishes trade quality titles designed to educate, encourage, inspire, or entertain readers with current, consistent, relevant topics that are available everywhere books are sold. 
( www.MorganJamesPublishing.com )
 # # #