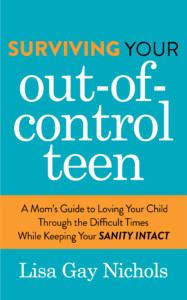 NEW YORK—May 26, 2019—Morgan James' new release, Surviving Your Out-of-Control Teen: A Mom's Guide to Loving Your Child Through the Difficult Times While Keeping Your Sanity Intact by Lisa Gay Nichols, is a guide for parents of teenagers trying to keep their child on the right path with love. Surviving Your Out-of-Control Teen was written for any mother struggling with parenting a rebellious teenager.
Lisa Gay Nichols understands that the teenage years can be a difficult time for parents, especially when their teens continually make poor choices, causing constant heartache. After seemingly trying everything, mothers often feel desperate to stop their children from ruining their lives, yet powerless to change their path. Surviving Your Out-of-Control Teen helps these mothers finally achieve the breakthrough they have been hoping for.
As the mother of a formerly challenging teenager, author Lisa Gay Nichols understands the difficulty of parenting during this stage of life. Nichols uses her experience to show mothers what truly works to reduce their stress and help their teen. Readers will not only learn the steps they can take to keep their teen safe, but also how to heal their relationship and pinpoint the other factors that are causing them misery and stopping them from improving the situation. Through Surviving Your Out-of-Control Teen, mothers and teenagers will conquer the rollercoaster of emotions to feel calmer, safer, and happier than ever before.
If you would like more information about this topic, or to schedule an interview with Lisa Gay Nichols, please call Nickcole Watkins at 516.900.5674.
About the Author: Lisa Gay Nichols is a certified EFT and Matrix Reimprinting practitioner with a passion for helping fellow mothers raising teenagers. Lisa also gained her MS in agricultural journalism from the University of Wisconsin Madison, and recently founded Tapping Into Your True Self, where she uses Emotional Freedom Techniques to help people overcome the negative thoughts or experiences that hold them down. Lisa and her family currently live in Concord, California.
More About This Title: Surviving Your Out-of-Control Teen: A Mom's Guide to Loving Your Child Through the Difficult Times While Keeping Your Sanity Intact by Lisa Gay Nichols will be released by Morgan James Publishing on May 26, 2020. Surviving Your Out-of-Control Teen— ISBN 9781642797220 —has 164 pages and is being sold as a trade paperback for $12.95
About Morgan James Publishing: Morgan James publishes trade quality titles designed to educate, encourage, inspire, or entertain readers with current, consistent, relevant topics that are available everywhere books are sold. (www.MorganJamesPublishing.com)