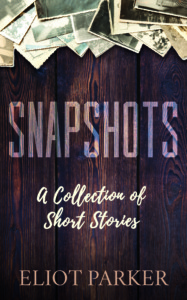 NEW YORK—May 26, 2020— Morgan James' new release Snapshots, by Eliot Parker, is a collection of eleven short stories that depict life in small town Appalachia. Each story frames unique, riveting characters that are grappling with choices as they navigate their current circumstances. Personal and professional relationships of each character are weighed down by their backgrounds, life experiences, and the expectations of others. Each story deconstructs a character's core values and beliefs, forcing them to reexamine who they are and who they need to become. 
The professional spaces explored in Snapshots stretch across the spectrum of social order: law enforcement personnel, successful couples, convicted criminals, the rich, and the grieving. As each protagonist faces their central conflict, they push the boundaries of their expectations, creating an unforgettable, reinvented group of people. These stories reveal instances of vulnerability amidst the truths of home, family, love, and acceptance within pivotal, 'snapshot' moments. 
In Snapshots, Eliot Parker topples expectations with his exciting and contemporary prose. Parker believes that life is defined by the choices one makes, not the circumstances they find themselves in. His writing captures how ordinary people can overcome extraordinary obstacles, altering their pattern of behavior. Snapshots reveals characters who uncover their pain, doubt, and disbelief before moving beyond it.
 If you would like more information about this topic, or to schedule an interview with Eliot Parker, please call Nickcole Watkins at 516.900.5674.
About the Author: Eliot Parker is the author of four thriller novels. A graduate of Eastern Kentucky University with his M.F.A. in creative writing, Eliot is a recipient of the West Virginia Literary Merit Award and his novel Fragile Brilliance was a finalist for the Southern Book Prize in Thriller Writing. His novel Code for Murder was bronze winner in genre fiction by America BookFest in 2018 and his most recent novel, A Knife's Edge, was an honorable mention at the 2019 London Book Festival. He is the host of the podcast program "Now, Appalachia," heard on the Authors on the Air Global Radio Network. A native of Charleston, West Virginia, Eliot currently resides in Chesapeake, Ohio.
More About This Title: Snapshots by Eliot Parker, will be released by Morgan James Publishing on May 26, 2020. Snapshots—ISBN 9781642797138—has 220 pages and is being sold as a trade paperback for $14.95. 
About Morgan James Publishing: Morgan James publishes trade quality titles designed to educate, encourage, inspire, or entertain readers with current, consistent, relevant topics that are available everywhere books are sold. 
( www.MorganJamesPublishing.com )