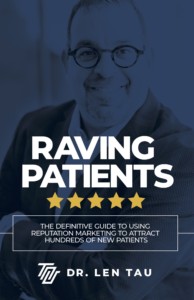 NEW YORK— July 21, 2019—Morgan James' new release, Raving Patients: Your Guide to Build a Five-Star Reputation that Attracts Hundreds of New Patients, by Dr. Len Tau, is the playbook for using reputation marketing to attract a steady flow of new dental patients. As a Consultant and Dental Practice Owner, Dr. Len Tau understands the necessity of good marketing to make a business thrive. 
Raving Patients explains how dental practices waste time and money searching for new patients with old methods, unable or unwilling to use modern marketing techniques. Dr. Len Tau hopes to teach other dental professionals how to exponentially increase the reach and effectiveness of their advertising efforts on and offline. Tau outlines various marketing strategies that can make a big impact, such as search engine optimization and website design. He explains that promoting a clear and accessible dentistry practice online will encourage a greater amount of new and recurring patients. 
Dr. Len Tau knows that if a patient enters a dental practice with a high degree of trust, then there is a greater likelihood for that patient to move forward with treatment recommendations. In Raving Patients, Tau shares that patient reviews online are the best way for new customers to learn about a practice's vision and services. He understands the concern surrounding negative reviews, but explains how to highlight positive reviews in order to generate more web traffic and ultimately, more patients. 
If you would like more information about this topic, or to schedule an interview with Dr. Len Tau, please call Nickcole Watkins at 516.900.5674 
About the Author: One of the top leaders in dental consulting according to Dentistry Today, Leonard Tau DMD is a Dentist, Consultant, Speaker, Podcaster, and wet-fingered Practice owner. He is also the General Manager of the Dental Division for Birdeye, a reputation marketing platform, and founder of Tau Dental Consulting, a consulting firm that helps dentists develop a comprehensive online marketing plan. Few professionals within the dental industry have the level of expertise, knowledge, and passion for the field. Dr. Leonard Tau has traveled the country educating dental professionals to help them succeed in growing their practice, reigniting their passion for dentistry, and navigating the fast-changing nature of the job. He currently resides in Blue Bell, PA.
More About This Title: Raving Patients: Your Guide to Build a Five-Star Reputation that Attracts Hundreds of New Patients, by Dr. Len Tau, will be released by Morgan James Publishing on July 21, 2020. Raving Patients—ISBN 9781642797817 —has 256 pages and is being sold as a trade paperback for $19.95.
About Morgan James Publishing: Morgan James publishes trade quality titles designed to educate, encourage, inspire, or entertain readers with current, consistent, relevant topics that are available everywhere books are sold. ( www.MorganJamesPublishing.com )