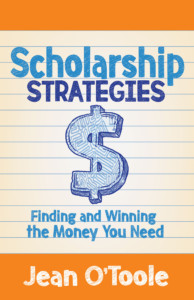 NEW YORK—September 3, 2019—Morgan James's new release, Scholarship Strategies: Finding and Winning the Money You Need, by Jean O'Toole, is a time-saving, unique approach to finding scholarships in order to reduce the cost of higher education. After successfully discovering and applying various scholarships to her own academic studies, Jean O'Toole outlines proven methods and techniques throughout her writing. Scholarship Strategies empowers students to be uniquely proactive throughout their scholarship search process, enabling them to find more scholarships than those provided by the guidance and college offices at their schools.
Jean O'Toole simplifies the scholarship application process in easy-to-follow steps which any student can incorporate into their already busy schedules. She provides students and parents with a clear plan to decipher which scholarships have the best chances of winning and should be applied to. Her easy and creative approach was developed over a decade of working with thousands of students, giving families the tools to take ownership of their scholarship search process. It is possible for students today to attend college without drowning in college debt, according to O'Toole, and Scholarship Strategies improves their chances of winning outside scholarship money.
Scholarship Strategies offers 25 strategies to work smarter, not harder, when applying for scholarships. Jean O'Toole's approach describes over $100,000 of specific scholarship opportunities, and provides 15 ways to reduce college costs beyond financial aid or other gifts. O'Toole understands that the current approach to finding scholarships is not giving families the results they need. She has seen the negative results of student loan debt throughout her years of professional experience, and she is determined to help families avoid that as much as possible.
If you would like more information about this topic, or to schedule an interview with Jean O'Toole, please call Nickcole Watkins at 516.900.5674.
About the Author: Jean O'Toole grew up in Western Massachusetts. As a recipient of an academic college scholarship as well as several outside scholarships, she was able to attend Wagner College and graduated with a B.S. in Arts Administration in 1997. Post college, her professional life had an incredible jump start, and within a few years she was touring the United States as a presenter and motivator for large groups of students and parents. In 2008, she joined Connections 101 in New York City, a company dedicated to helping students overcome obstacles to craft paths of accomplishment. She currently resides in Oak Ridge, New Jersey with her loving husband, Stephen, their dogs, Thelonious and Dude, and cat, Nina
More About This Title: Scholarship Strategies: Finding and Winning the Money You Need, by Jean O'Toole, will be released by Morgan James Publishing on September 3, 2019. Scholarship Strategies—ISBN 9781642794823—has 140 pages and is being sold as a trade paperback for $17.95.
About Morgan James Publishing: Morgan James publishes trade quality titles designed to educate, encourage, inspire, or entertain readers with current, consistent, relevant topics that are available everywhere books are sold. (www.MorganJamesPublishing.com)
 # # #