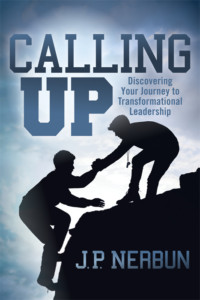 NEW YORK—September 3, 2019—Morgan James's new release, Calling Up: Discovering Your Journey to Transformational Leadership, by J. P. Nerbun, is a guide for coaches of all sports at all levels. Nerbun presents a step-by-step process to building a transformational culture, starting with changing coaching behaviors, attitudes, and language. Calling Up provides coaches with innovative and easy-to-implement suggestions for the practical application of each theme, principle, and core value that is introduced through the story of high school coach, Daniel.
After more than 11 years of coaching, J. P. Nerbun understands the challenges of modern-day coaching. Nerbun faced the deadlines, emotional strain, and physical toll of coaching for years before his coaching philosophy was transformed into something new and powerful. Calling Up is his way to share the difficult lessons he learned with anyone working in athletics, whether they are new to the position or seasoned veterans. Nerbun describes his experiences through the eyes of Daniel, a high school basketball coach struggling to keep his job while working to become the coach he always wanted to be.
Apart from the entertaining and relatable story, Calling Up provides coaches with principles based on scientific research and personal experience, as well as shared by some of the most highly qualified and successful coaches in sports. These principles explore how people learn, what motivates them, and which aspects of the human condition should not be ignored throughout training. J.P. Nerbun provides specific tools for coaching and explains how these tools should applied when working with a team. Overall, Calling Up shows coaches not just how to build great athletes, but how to build great people.
If you would like more information about this topic, or to schedule an interview with J. P. Nerbun, please call Nickcole Watkins at 516.900.5674
About the Author: J.P. Nerbun is a writer, speaker, podcast host, mentor, coach, and sports consultant. After coaching at the high school, collegiate, and professional levels across the globe he founded Thrive On Challenge with the mission to help people in sports use it for good, to transform the lives of others. Currently, he lives in Mechanicsburg, Pennsylvania with his wife and two children. J.P. has also lived in Chattanooga, TN, Limerick Ireland, and Columbia, SC.
More About This Title: Calling Up: Discovering Your Journey to Transformational Leadership, by J. P. Nerbun, will be released by Morgan James Publishing on September 3, 2019. Calling Up—ISBN 9781642793048—has 256 pages and is being sold as a trade paperback for $17.95.
About Morgan James Publishing: Morgan James publishes trade quality titles designed to educate, encourage, inspire, or entertain readers with current, consistent, relevant topics that are available everywhere books are sold. (www.MorganJamesPublishing.com)
 # # #