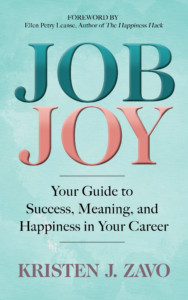 NEW YORK—June 18, 2019—Morgan James' new business book release, Job Joy: Your Guide to Success, Meaning and Happiness in Your Career by Kristen J. Zavo, is a guide that helps individuals find fulfillment and purpose in their work. Job Joy was written for people that are tired of feeling unhappy and burned out in their career, and want to make a change.
Even with a financially successful career, many people still find themselves bored, stressed, unhappy, or just feeling stuck. Money, however, should never be the only factor determining whether a person follows a certain career path. Rather than remaining trapped in their unfulfilled state, these people need to re-evaluate their career choice. Job Joy shows them it is never too late to change the way they work, or even start an entirely new career.
Change will not happen on its own—to start loving their job, people need to make it happen. Job Joy gives individuals the tools to finally create this change by helping them overcome the fears that are holding them back, determine whether or not to stay in their current job, and build a new, meaningful career plan. Through Job Joy, they can not only succeed, but genuinely love what they do.
If you would like more information about this topic, or to schedule an interview with Kristen J. Zavo, please call Nickcole Watkins at 516.900.5674.
About the Author: Kristen J. Zavo is a career coach and author that uses her two decades of corporate experience to help others find happiness in their work. Kristen has an MBA in Finance, a BS in Marketing and Psychology, and is a Certified Dragontree Life Coach and a Certified Dragontree Illuminator. Kristen has now helped thousands of clients through her coaching and speaking, and currently splits her time between San Diego, California and Cincinnati, Ohio.
More About This Title: Job Joy: Your Guide to Success, Meaning and Happiness in Your Career by Kristen J. Zavo will be released by Morgan James Publishing on June 18, 2019. Job Joy—ISBN 9781642792249—has 142 pages and is being sold as a trade paperback for $14.95
About Morgan James Publishing: Morgan James publishes trade quality titles designed to educate, encourage, inspire, or entertain readers with current, consistent, relevant topics that are available everywhere books are sold. (www.MorganJamesPublishing.com)
# # #