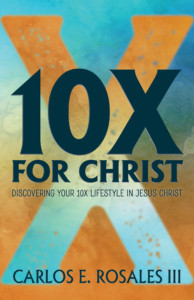 NEW YORK—July 16, 2019—Morgan James's new release, 10X For Christ: Discovering Your 10X Lifestyle in Jesus Christ, by Carlos E. Rosales III, takes believers on a daily journey to discover how they can live with boldness as a Christian. Each of the five 10-week studies explores the key elements of a "10X life," such as journeying from forgiveness and recognizing that everyone is a masterpiece in God's eyes. Carlos E. Rosales III examines biblical principles in order to strengthen a believer's faith and to infuse their lives with a new sense of purpose.
10X For Christ is a daily devotional intended to inspire Christians to be bold and fearless as they walk in faith. Rosales is determined to motivate believers to regularly study God's Word in order to, "Discover the joy, peace, and abundance Christ offers us." He encourages Christians to read and respond to scripture with sections for personal reflection and model prayers included in each day's lesson, and he emphasizes the need for fellowship and accountability amongst believers, to better equip one another for bold lives of faith.
Rosales' writing style is inclusive and simple enough for anyone to read, whether they are a young or older believer, newer to Christianity or practiced in the faith. Christians seeking a closer connection to their faith and looking to learn more about their daily walk with Christ will enjoy reading his encouraging words alongside biblical passages each day. 10X For Christ will help regular, daily prayer to be less of a list of wants and needs, and more of an open dialogue between the God of the universe and one of his chosen disciples.
If you would like more information about this topic, or to schedule an interview with Carlos E. Rosales III, please call Nickcole Watkins at 516.900.5674.
About the Author: Carlos E Rosales III attends Champion Forest Baptist Church in Houston, TX. Coming to faith as an adult, Carlos has experienced many challenges to his faith. Carlos lives in Spring, Texas with his wife and has six children and seven grandchildren. He is an executive consultant, leadership coach, and advisory board chair with Convene
More About This Title: 10X For Christ: Discovering Your 10X Lifestyle in Jesus Christ by Carlos E. Rosales III, will be released by Morgan James Publishing on July 16, 2019. 10X For Christ—ISBN 9781642792621—has 336 pages and is being sold as a trade paperback for $19.99.
About Morgan James Publishing: Morgan James publishes trade quality titles designed to educate, encourage, inspire, or entertain readers with current, consistent, relevant topics that are available everywhere books are sold. (www.MorganJamesPublishing.com)
 # # #