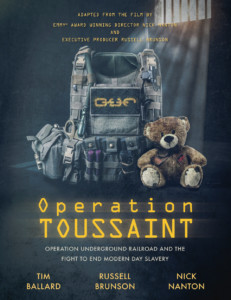 NEW YORK—July 16, 2019—Morgan James's new release, Operation Toussaint, by Timothy Ballard, Russell Brunson, and Nicholas Nanton, reveals how an ex-special agent, and Operation Underground Railroad, save children from sex trafficking worldwide. After leaving his position with the U.S. Government, Timothy Ballard created Operation Underground Railroad, where he and his team rescue victims of child sex trafficking across the world. Operation Toussaint focuses specifically on Ballard's work in Haiti, and his mission to end modern-day slavery.
As a colorful adaptation of the documentary, Operation Toussaint uses editorial photography, dialogue transcriptions and stunning graphics to tell a story. Timothy Ballard shares the ugly truth behind human trafficking: that the United States is the top consumer of child pornography in the world, which directly contributes to the demand of child sex slavery. Ballard feels a strong sense of responsibility to the children being sold, both as a father and as a United States citizen, and refuses to rest until those who have stolen these children are brought to justice.
Timothy Ballard is not afraid to go to the darkest corners of the world and, with the aid of local teams, to arrest child traffickers and rescue children wherever they need help. By honestly sharing his experiences in Operation Toussaint, Ballard encourages young adults and beyond who are interested in making a difference to get involved in the movement to end child sex trafficking.
If you would like more information about this topic, or to schedule an interview with Timothy Ballard, Russell Brunson, and Nicholas Nanton, please call Nickcole Watkins at 516.900.5674.
About the Author: Timothy Ballard is the founder and CEO of Operation Underground Railroad (O.U.R.), which rescues children from sex trafficking rings. He spent over a decade working as a Special Agent for the Department of Homeland Security, where he was deployed as an undercover operative for the U.S. Child Sex Tourism Jump Team.  Now, Ballard's work includes the development of software and Internet investigations specifically to infiltrate file-share networks where traffickers exchange child pornography. He has also assisted in the training of many law enforcement officers in these procedures and testified before the United States Congress. Ballard continues to work undercover in the United States and in multiple foreign countries to infiltrate child-trafficking organizations. He currently resides in Utah.
Russell Brunson has built a following of over a million entrepreneurs, sold hundreds of thousands of copies of his books, DotCom Secrets and Expert Secrets, popularized the concept of sales funnels, and co-founded a software company called ClickFunnels that helps tens of thousands of entrepreneurs quickly get their message out to the marketplace. He currently resides in Boise, Idaho.
An Emmy® award-winning Director and Producer, Nicholas Nanton produces media and branded content for top Thoughtleaders® and media personalities around the world. Recognized as a leading expert on branding and storytelling, Nick has authored more than two dozen Best-Selling books (including the Wall Street Journal Best-Seller StorySelling™) and produced and directed more than 40 documentaries, earning 5 Emmy® Awards and 18 nominations. He directs and produces the series Masters of Success™, featuring legends in the worlds of business, entrepreneurship, personal development, technology, and sports. Nick lives in Altamonte Springs, Florida.
More About This Title: Operation Toussaint by Timothy Ballard, Russell Brunson, and Nicholas Nanton, will be released by Morgan James Publishing on July 16, 2019. Operation Toussaint—ISBN 9781642792690—has 168 pages and is being sold as a trade paperback for $21.95.
About Morgan James Publishing: Morgan James publishes trade quality titles designed to educate, encourage, inspire, or entertain readers with current, consistent, relevant topics that are available everywhere books are sold. (www.MorganJamesPublishing.com)
 # # #