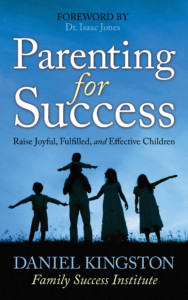 NEW YORK—November 12, 2019—Morgan James' new release, Parenting for Success: Raise Joyful, Fulfilled, and Effective Children by Daniel Kingston, teaches parents the tools they need to raise happy, well-balanced children. In a fast paced, stress-laden world, Parenting for Success is a guide to establishing peace and order in the home and developing positive child-parent relationships.
Parenting is stressful, no matter how many children you have or how old they are. From potty training to homework to dating, every stage of your child's life brings a new set of challenges. Drawing from his years of experience and research in counseling and training families, Daniel Kingston has offered insights on how to make even the toughest parenting struggles a breeze in Parenting for Success.
Kingston tackles the every day battles parents face, such as enforcing a set bedtime, getting children to help with chores, and finding nutritious food the whole family will eat. For every parenting solution he provides, Kingston goes into detail providing a step-by-step of how to easily implement these routines and methods into any household. Beyond the daily routines, Kingston's Parenting for Success addresses larger ongoing issues, such as obedience, respect, and discipline, offering methods that can transform even the most rebellious children.
Not only does Parenting for Success ensure that parents are able to establish the healthy routines and consistency children need to be healthy and successful, it does so from a faith-based perspective that ties these factors in with godliness and joy. With every insight and tool offered, Daniel Kingston's Parenting for Success is a complete guide for parents to cultivate joy and positivity within their children.
If you would like more information about this topic, or to schedule an interview with Daniel Kingston, please call Nickcole Watkins at 516.900.5674.
About the Author: Daniel Kingston has a background in engineering and business, but has been transforming people's lives via coaching and teaching the family dynamic for nearly a decade. Through his partnership with the Family Success Institute, Kingston has developed proven strategies and techniques to bring true joy, fulfillment, and happiness to families and their children. He currently works with couples, parents, and teenagers. Daniel lives with his family and enjoys the great outdoors in West Jordan, Utah.
More About This Title: Parenting for Success: Raise Joyful, Fulfilled, and Effective Children by Daniel Kingston will be released by Morgan James Publishing on November 28, 2019. Parenting for Success—ISBN 978-1642793987—has 154 pages and is being sold as a trade paperback for $15.95
About Morgan James Publishing: Morgan James publishes trade quality titles designed to educate, encourage, inspire, or entertain readers with current, consistent, relevant topics that are available everywhere books are sold. (www.MorganJamesPublishing.com)
# # #