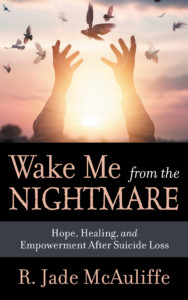 NEW YORK—November 12, 2019—Morgan James' new release, Wake Me from the Nightmare: Hope, Healing, and Empowerment After Suicide Loss by R. Jade McAuliffe, is a guide to coping with grief and healing from traumatic loss for those who have lost a loved one to suicide. Having faced three family tragedies, including the devastating loss of her sister to suicide, McAuliffe provides comfort and solace to readers as she shares her own experiences with depression, mourning, and acceptance.
Hundreds of thousands of people die by suicide around the world annually, leaving behind countless loved ones to cope with the loss. Believing that no one should deal with the shock, horror, and devastation of such a loss alone, R. Jade McAuliffe presents Wake Me from the Nightmare as a map to navigating the difficult road to healing ahead. In Wake Me from the Nightmare, McAuliffe draws on her years of experience as a life coach to offer readers information on dealing with anxiety and depression, tips to acknowledge and overcome inner pain and turmoil, and important self-care methods to help maintain health and sanity.
Wake Me from the Nightmare: Hope, Healing, and Empowerment After Suicide Loss is filled with practical advice and proven coping mechanisms, as well as the comforting voice of a friend and understanding perspective of someone who's gone through such a loss. For anyone seeking answers and hope in the midst of a devastating personal loss, Wake Me from the Nightmare is the perfect companion.
If you would like more information about this topic, or to schedule an interview with R. Jade McAuliffe, please call Nickcole Watkins at 516.900.5674.
About the Author: R. Jade McAuliffe is a writer, poet, and certified life coach trained by The Angry Therapist. Jade is a member of her local Suicide Prevention Education and Awareness Coalition and served as co-chair of the 2017 Walworth County "Out of the Darkness" Community Walk for suicide prevention and awareness. You can find her stories, poetry, and art on her Blog Page at: www.noparameters.org. Her work has also been featured on Elephant Journal and The Good Men Project. Jade resides with her children in Genoa City, Wisconsin.
More About This Title: Wake Me from the Nightmare: Hope, Healing, and Empowerment After Suicide Loss by R. Jade McAuliffe will be released by Morgan James Publishing on November 12, 2019. Wake Me from the Nightmare—ISBN 978-1642794137—has 180 pages and is being sold as a trade paperback for $16.95
About Morgan James Publishing: Morgan James publishes trade quality titles designed to educate, encourage, inspire, or entertain readers with current, consistent, relevant topics that are available everywhere books are sold. (www.MorganJamesPublishing.com) 
# # #