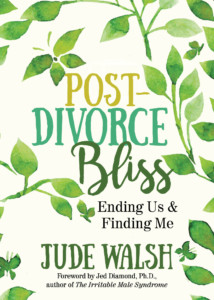 NEW YORK—June 25, 2019—Morgan James' new book release, Post-Divorce Bliss: Ending Us and Finding Me by Jude Walsh, is a guide that helps women find a new beginning after their marriage ends. Post-Divorce Bliss was written for any woman that has experienced a divorce, and needs encouragement or guidance moving forward.
Many divorced women never imagined their marriage coming to an end, and feel grief-stricken and lost when the life that they knew is taken away from them. However, Post-Divorce Bliss shows them that this is not the end, but rather an opportunity for a life of their dreams to begin. The guidance in Post-Divorce Bliss was designed to empower women with a new perspective and skills that will prepare them for their new life.
As someone who experienced divorce herself, Jude Walsh understands the challenging and confusing position that divorced women are placed in. Walsh developed eight effective practices that helped her find healing in her own life, and she shares all of these practices in detail through Post-Divorce Bliss. Walsh's guidance allows women to transform their lives and finally leave their divorce behind.
If you would like more information about this topic, or to schedule an interview with Jude Walsh, please call Nickcole Watkins at 516.900.5674.
About the Author: Jude Walsh is a life coach and writer with a passion for helping women build a new and beautiful life after divorce. As a Writing Mindset and Legacy Writing teacher, Jude has extensive literary experience and has been published in many magazines and anthologies. Jude is also a frequent traveler that enjoys adventure, and she currently lives in Dayton, Ohio with her son and their three dogs.
More About This Title: Post-Divorce Bliss: Ending Us and Finding Me by Jude Walsh will be released by Morgan James Publishing on June 25, 2019. Post-Divorce Bliss—ISBN 9781642792348 has 134 pages and is being sold as a trade paperback for $12.95
About Morgan James Publishing: Morgan James publishes trade quality titles designed to educate, encourage, inspire, or entertain readers with current, consistent, relevant topics that are available everywhere books are sold. (www.MorganJamesPublishing.com)
# # #