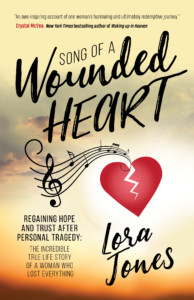 NEW YORK—June 25, 2019—Morgan James Faith's new book release, Song of a Wounded Heart: Regaining Hope and Trust After Personal Tragedy: The Incredible True Life Story of a Woman Who Lost Everything by Lora Jones, shares the true story of recovery from devastating heartache through Christ. Song of a Wounded Heart was written to inspire anyone who has had their faith challenged by tragic circumstances.
After losing her entire family in a head-on collision during a family vacation, Lora Jones was left in a nightmare of loneliness and pain. Her faith was tested like never before as she struggled to understand this tragedy. Song of a Wounded Heart describes Lora's emotional and spiritual journey as she faced the most difficult time in her life.
Even when Lora was overcome with shock and grief and unable to think, God spoke to her and continued to walk by her side, drawing her closer to Him. In Song of a Wounded Heart, Lora shares the Scriptures, journal entries, and personal testimonies that strengthened her faith during this time. Through Song of a Wounded Heart, Lora inspires people in similar situations to truly believe in God's goodness, regardless of their circumstances.
If you would like more information about this topic, or to schedule an interview with Lora Jones, please call Nickcole Watkins at 516.900.5674.
About the Author: Lora Jones is an author and speaker with decades of ministry experience. After graduating from Kansas State University with a degree in Accounting and from Midwestern Theological Seminary with a Master's in Religious Education, Lora and her husband, J.L. Jones, had two children, Janessa and Jayden. Nearly twenty years later, however, the family was involved in an automobile accident, leaving Lora as the only survivor. The Lord carried her through this tragedy, and Lora now uses her testimony to encourage other Christians. Lora currently lives in Liberal, Kansas, where she attends First Baptist Church.
More About This Title: Song of a Wounded Heart: Regaining Hope and Trust After Personal Tragedy: The Incredible True Life Story of a Woman Who Lost Everything by Lora Jones will be released by Morgan James Publishing on June 25, 2019. Song of a Wounded Heart—ISBN 9781642792201—has 206 pages and is being sold as a trade paperback for $15.99
About Morgan James Publishing: Morgan James publishes trade quality titles designed to educate, encourage, inspire, or entertain readers with current, consistent, relevant topics that are available everywhere books are sold. (www.MorganJamesPublishing.com)
# # #