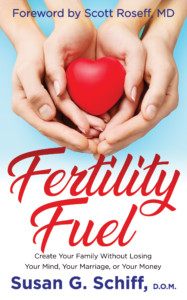 NEW YORK—July 9, 2019—Morgan James's new release, Fertility Fuel: Create Your Family Without Losing Your Mind, Your Marriage, or Your Money, by Susan G. Schiff, provides an integrative approach to understanding and overcoming infertility. With over twenty years of experience in acupuncture and eastern medicine, Susan G. Schiff focuses on the entirety of a patient's life that can impact their fertility, from their diet and exercise habits to their past traumas and emotional well being. Schiff offers a holistic alternative to traditional infertility options, to be used alongside modern medicine's approach of diagnosis and treatment, without the fear and frustration it typically brings.
Approximately 1 in 6 families struggles with infertility, but Susan G. Schiff is determined to help those families put their health and happiness first without giving up on their dreams. In Fertility Fuel, she examines modern medicine's approach to infertility, acknowledging the good work of advanced technology while honestly reporting the cost of many new techniques, many of which are too expensive for the average family. Schiff helps patients seperate facts from scare tactics without ignoring other factors that may be impacting their fertility.
Fertility Fuel offers five steps to get one's body in the best possible state for fertility. The first step examines the past experiences, motivations and current emotional status of a prospective patient, emphasizing the impact of stress and other psychological triggers on overall health. The second step provides a lifestyle assessment that covers a multitude of areas, including medications, diet, exercise, and alcohol usage, as well as the patient's medical history, before using the results to inform step three: the action plan. After creating a personalized action plan, steps four and five examine more in-depth subjects that could be impacting a patient's fertility, such as their circadian rhythm and medical labs. "We tend to think that we are healthy until our bodies don't do what we want or need them to do," Schiff claims, explaining that true change and success in fertility may require more than just multiple attempts.
Schiff addresses women directly in order to create a casual, conversational tone around an often uncomfortable and frustrating subject. Her writing is aimed at women having difficulty getting pregnant, whether they are at the beginning of their journey, full of questions and doubts about the future, or if they have struggled for years, receiving difficult diagnoses from specialists and attempting extensive medical interventions. Schiff is determined to create a new conception plan for anyone looking to try something different, one that is realistic and healthy.
If you would like more information about this topic, or to schedule an interview with Susan G. Schiff, please call Nickcole Watkins at 516.900.5674.
About the Author: Susan G. Schiff, D.O.M is a seasoned Acupuncture Physician who has been practicing Chinese medicine for over 20 years. She is nationally board certified by the NCCAOM in Chinese herbal medicine and acupuncture and is a fellow of the American Board of Oriental Reproductive Medicine. Dr. Schiff has treated thousands of patients in their quest to overcome their infertility diagnosis and create a family. She lives and works in Delray Beach, FL.
More About This Title: Fertility Fuel: Create Your Family Without Losing Your Mind, Your Marriage, or Your Money by Susan G. Schiff, will be released by Morgan James Publishing on July 9, 2019. Fertility Fuel—ISBN 9781642792584—has 134 pages and is being sold as a trade paperback for $14.95.
About Morgan James Publishing: Morgan James publishes trade quality titles designed to educate, encourage, inspire, or entertain readers with current, consistent, relevant topics that are available everywhere books are sold. (www.MorganJamesPublishing.com)
 # # #