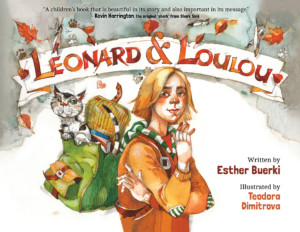 NEW YORK—July 9, 2019—Morgan James's new release, Leonard & Loulou by Esther Buerki, illustrated by Teodora Dimitrova, helps young children and adults alike speak about their feelings and encourages a sense of importance in their daily lives. Leonard & Loulou creates an opportunity for parents to talk to their children about bullying, as well as encourage their self esteem, and it teaches young children, especially boys, that being sensitive to one's own emotions, as well as the emotions of others, can be a strength, rather than a weakness.
Esther Buerki's story is inspired by a season of her own life, when her son did not want to go to school, but preferred to stay home and play with their cat. She recognizes how animals can help young children feel loved and accepted, especially if those children have trouble getting along with children their age. Buerki displays healthy ways to talk about self esteem and emotional sensitivity through the friendship of Loulou, a cat who seeks to understand human emotions, and Leonard, a boy who feels out of place at his highly competitive school.
Through the unexpected friendship of a boy and his cat, as well as conversations Leonard has with new animals along the way, Esther Buerki shows that talking about a problem can make an insurmountable task seem much smaller. She depicts calm, honest conversations between friends, where Leonard shares his worries and fears, and Loulou encourages him to be brave and resilient when confronting his fears. Buerki does not diminish the concerns of young children, but rather reminds parents to listen when comforting their child. Leonard & Loulou is a book for young children, and perhaps some adults, who struggle with feeling good enough, and need to be reminded of their inherent value.
If you would like more information about this topic, or to schedule an interview with Esther Buerki, please call Nickcole Watkins at 516.900.5674.
About the Author: Esther Buerki is a journalist and communication manager who loved to read her old children's books to her sons every night before they went to bed. She studied French, German, and English and has been published many times in Swiss newspapers. Esther currently resides in Winterthur, Switzerland, with her two sons and four cats.
About the Illustrator: The Bulgarian artist, Teodora Dimitrova, studied at the National school of Fine Arts "Ilia Petrov". She lectures about illustrations at the Academy of Art in Sofia, Bulgaria, and works as a freelancer. Her paintings in Leonard and Loulou are her first work outside of her home country, Bulgaria.
More About This Title: Leonard & Loulou by Esther Buerki, will be released by Morgan James Publishing on July 9, 2019. Leonard & Loulou—ISBN 9781642792515—has 32 pages and is being sold as a trade paperback for $12.95.
About Morgan James Publishing: Morgan James publishes trade quality titles designed to educate, encourage, inspire, or entertain readers with current, consistent, relevant topics that are available everywhere books are sold. (www.MorganJamesPublishing.com)
 # # #