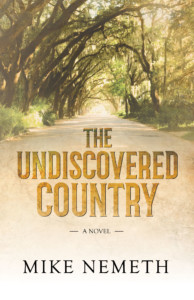 NEW YORK—May 15, 2018—Morgan James's new release, The Undiscovered Country: A Novel by Mike Nemeth, picks up where his debut novel left off. Following suit as another social commentary wrapped up in an exciting narrative, Nemeth uses the dramatic plot of the protagonist's life to speak on the sensitive subject of death, and the indignity that often accompanies it.
Randle Marks faced the American justice system and lost. After the death of his abusive father, he was convicted of a crime that he didn't commit, and had to serve hard time. When his sentence came to an end, Randle thought things were looking up. He planned to release a book about his scientific work, and was engaged to marry his college sweetheart. Everything came to a halt when his mother fell ill, and he had to return home to Georgia to deal with bitter memories, contemptuous siblings, and his mother's deceit.
The Undiscovered Country: A Novel gets gritty when Randle uncovers two conspiracies—one to overtake his mother's estate and one to overtake the estate of the wealthy man claiming to be his birth father. Beyond that, Randle believes his mother's illness may be anything but natural, and he has to investigate all while dealing with corrupt doctors who are unwilling to help waste valuable resources on his mother in her terminal state.
Through Randle's climactic journey, The Undiscovered Country: A Novel questions the ethics of how elderly and terminal patients are treated, and often discarded by society, and explores the financial battles that can ensue in the wake of death. With its thrilling plot line and underlying moral quandaries, The Undiscovered Country: A Novel leaves readers entertained, introspective, and excited for the next series installment.
If you would like more information about this topic, or to schedule an interview with Mike Nemeth, please call Nickcole Watkins at 516.900.5674.
About the Author: Mike Nemeth is a retired businessman and author of social criticism masquerading as thriller novels. The Undiscovered Country is the second installment of his Randle Marks Redemption Trilogy. The first installment, Defiled, became an Amazon bestseller in March 2017. His previous publications also include Cinderella's Slipper, a non-fiction book about the use of computer algorithms to rank college football teams, and "The Missing Ingredient", an article published in The New York Times that explained why college football rankings are always wrong. Mike currently lives with his wife, Angie, and his rescue dog, Sophie, in the suburbs of Atlanta, Georgia.
More About This Title: The Undiscovered Country: A Novel by Mike Nemeth, will be released by Morgan James Publishing on May 15, 2018. The Undiscovered Country—ISBN 9781683506973—has 340 pages and is being sold as a trade paperback for $19.95.
About Morgan James Publishing: Morgan James publishes trade quality titles designed to educate, encourage, inspire, or entertain readers with current, consistent, relevant topics that are available everywhere books are sold.
( www.MorganJamesPublishing.com )
# # #