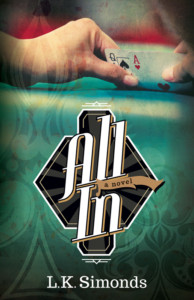 NEW YORK—August 27, 2019—Morgan James's new release, All In: A Novel by L. K. Simonds, is told from the perspective of an unsaved young woman and showcases the impressions made on her by attempts at ministry, some of which are effective and some of which are clumsy.
All In presents Cami Taylor who is a blackjack dealer, a bestselling author, and a fraud. She is also the queen of reinvention which began from her days working at the River Bend casino where she dealt blackjack and created Jackie, the protagonist of her debut novel, Double Down Blues. Jackie was everything Cami was not: reckless, sensuous, pretty, and thin, an alter ego Cami emulated enthusiastically. Double Down Blues became a surprise bestseller, and the former Leona Camille Lingo, a bookish, overweight schoolgirl from Phoenix, became Cami Taylor, an attractive, sophisticated author living in New York.
Cami's boyfriend, Joel, loves her in spite of her flaws. He wants to marry her, buy a house on Long Island, and raise a family which is a life that's a million miles from Cami's idea of happiness. Her therapist suggests compromise and trust, but Cami bolts like a deer. She breaks off the relationship and launches a new quest for happiness, not knowing that a nasty surprise waits around the corner. What follows is a fight to the death.
All In emphasizes the payoff for perseverance when befriending and ministering to a difficult, even unlikeable, person. It exemplifies the ministry of the Holy Spirit and the importance of following His lead then goes on to reveal the deeply human need for intimacy that transcends physical intimacy. Cami Taylor's transformation shows the unintended consequences of promiscuity. L.K. Simonds created a character in a fictional life that helps readers understand that God's love for them is all in.
If you would like more information about this topic, or to schedule an interview with L. K. Simonds, please call Nickcole Watkins at 516.900.5674.
About the Author: L. K. Simonds is a Fort Worth, Texas local. She worked as a waitress, KFC hostess, telephone marketer, assembly line worker, nanny, hospital lab technician, and air traffic controller. She's also an instrument-rated pilot and an alumnus of Christ for the Nations Institute in Dallas. L. K. once dreamed of an adventurous life as a missionary pilot in the African bush. That wasn't to be, so now she writes stories and lives a thousand lives in one.
More About This Title: All In: A Novel by L. K. Simonds will be released by Morgan James Publishing on August 27, 2019. All In—ISBN 9781642792911—has 282 pages and is being sold as a trade paperback for $15.99.
About Morgan James Publishing: Morgan James publishes trade quality titles designed to educate, encourage, inspire, or entertain readers with current, consistent, relevant topics that are available everywhere books are sold. (www.MorganJamesPublishing.com)
# # #