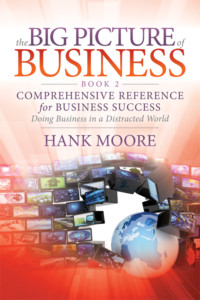 NEW YORK—November 1, 2019—Morgan James' new business book release, The Big Picture of Business, Book 2: Comprehensive Reference for Business Success by Hank Moore, introduces a new way of planning strategies that is designed for the business environment of both today and tomorrow. The Big Picture of Business, Book 2 was written to help any business adapt and grow.
In the modern, turbulent business environment, poor management decisions are very costly, and can easily sink a company. In fact, these managerial mistakes account for 92 percent of organizations' problems. Fixing these issues not only costs the businesses six times the amount they should be spending, but also spends one-third of the US Gross National Product. In The Big Picture of Business, Book 2, Hank Moore shows businesses how to avoid these mistakes and make wise decisions that will promote growth.
The Big Picture of Business, Book 2 was designed to be a guide that businesses can rely on to navigate the uncertain waters of the future while staying on the path of success. Hank Moore combines his trademarked approach, which has proven effective for the past 30 years, with fresh, new advice made specifically for today. The Big Picture of Business, Book 2 not only helps businesses seize what the current market has to offer, but also prepares them for the future by increasing their adaptability.
If you would like more information about this topic, or to schedule an interview with Hank Moore, please call Nickcole Watkins at 516.900.5674.
About the Author: Hank Moore is an author, Futurist and Corporate Strategist that has helped more than 5,000 clients. He is the creator of The Business Tree concept, which has proven successful internationally. Moore has written many books, including The Big Picture of Business, Pop Icons and Business Legends, Houston Legends, The Business Tree, The High Cost of Doing Nothing, The Classic Television Reference, Power Stars to Light the Flame, and The $50,000 Business Makeover. Moore has spoken at seven Economic Summits and has presented Think Tanks for five U.S. presidents. Moore currently lives in Sugar Land, Texas.
More About This Title: The Big Picture of Business, Book 2: Comprehensive Reference for Business Success by Hank Moore will be released by Morgan James Publishing on October 1, 2019. The Big Picture of Business, Book 2— ISBN 9781642793512—has 328 pages and is being sold as a trade paperback for $19.95
About Morgan James Publishing: Morgan James publishes trade quality titles designed to educate, encourage, inspire, or entertain readers with current, consistent, relevant topics that are available everywhere books are sold. (www.MorganJamesPublishing.com)
# # #