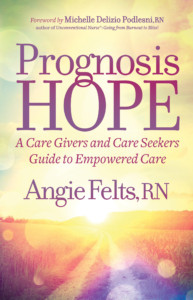 NEW YORK—November 1, 2019—Morgan James' new book release, Prognosis HOPE: A Care Givers and Care Seekers Guide to Empowered Care by Angie Felts, RN, introduces a new caregiving method that empowers patients. Prognosis HOPE was written to help both caregivers and care-seekers.
Human disconnection is very prevalent in the modern world, and one area that has been affected dramatically by this issue is healthcare. After experiencing a traumatic brain injury that impacted her for nearly twenty years, author and registered nurse Angie Felts understands the importance of an authentic human connection in caregiving firsthand. Felts wrote Prognosis HOPE to share her personal story and make a positive change in modern healthcare.
Prognosis HOPE explains Felts' entirely new four-step caregiving method in a straightforward yet entertaining way. Designed to be simple to understand and apply, this method transforms healthcare by giving more control to the patient while helping the medical professional build a better connection with them. Prognosis HOPE also shares the personal stories of Angie Felts as well as her mentors, colleagues, and patients to demonstrate the effectiveness and need for this new method. By benefitting both the patient and caregiver, the connections formed through Prognosis HOPE not only change healthcare, but also change lives.
If you would like more information about this topic, or to schedule an interview with Angie Felts, please call Nickcole Watkins at 516.900.5674.
About the Author: Angie Felts is a registered nurse with extensive medical experience, including Med/Surg, Mental Health, Long Term Care, Hospice, Assisted Living, and Home Care. Felts is also an entrepreneur with twenty-five years of experience in sales and marketing. Felts grew up in San Diego, but currently lives in Parker, Colorado with her husband and their five rescue dogs.
More About This Title: Prognosis HOPE: A Care Givers and Care Seekers Guide to Empowered Care by Angie Felts will be released by Morgan James Publishing on October 1, 2019. Prognosis HOPE—ISBN 9781642793482—has 180 pages and is being sold as a trade paperback for $17.95
About Morgan James Publishing: Morgan James publishes trade quality titles designed to educate, encourage, inspire, or entertain readers with current, consistent, relevant topics that are available everywhere books are sold. (www.MorganJamesPublishing.com)
 # # #