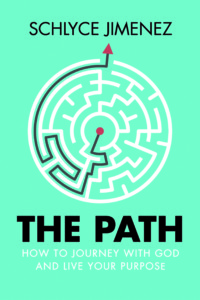 NEW YORK—June 25, 2019—Morgan James' new Christian book release, The Path: How to Journey with God and Live Your Purpose by Schlyce Jimenez, is a guide that shows people how to develop a more intimate relationship with God and live a life in fellowship with Him. The Path was written for anyone that wants to get closer to God and live a life of purpose.
A life in close relationship with God and His purpose is the most fulfilling life a person can have. Many people miss out on this, however, because of their illusion of separation from Him. Schlyce Jiminez wrote The Path to help people experience the fullness of God in their lives, and achieve their divine purpose.
The Path begins by helping people see themselves the way that God sees them, understanding that they are perfect and complete, and that there is no separation from Him. Once they experience God's love, The Path then helps them to grow into the person God created them to be. Schlyce helps individuals discover the fulfillment that comes with living for God and others, rather than themselves.
 If you would like more information about this topic, or to schedule an interview with Schlyce Jiminez, please call Nickcole Watkins at 516.900.5674.
About the Author: Schlyce Jiminez is a speaker, author, minister, and life coach. She is the founder of Emerge School of Transformation and the CEO of Rethink, both of which help her spread the transformational power of Christ to others, along with her position as an ordained minister. Schlyce Jiminez now lives in Woodland Park, Colorado, with her husband and their two daughters.
More About This Title: The Path: How to Journey with God and Live Your Purpose by Schlyce Jiminez will be released by Morgan James Publishing on June 4, 2019. The Path—ISBN 9781642792027—has 220 pages and is being sold as a trade paperback for $16.95
About Morgan James Publishing: Morgan James publishes trade quality titles designed to educate, encourage, inspire, or entertain readers with current, consistent, relevant topics that are available everywhere books are sold. (www.MorganJamesPublishing.com)
# # #