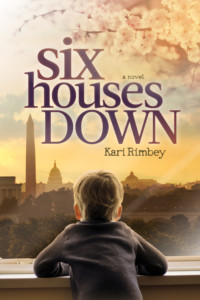 NEW YORK—June 25, 2019—Morgan James Fiction's new book release, Six Houses Down by Kari Rimbey, tells the fictional story of a mother's search for her son and the help she receives from God and others. Six Houses Down is a story that is relatable for any adults, especially parents.
Six Houses Down focuses on Sharon Webster, a mother, and her son that is diagnosed with Autism Spectrum Disorder. When a red-headed little girl climbs into their yard, an unexpected friendship develops with an elderly couple. As Sharon and her husband, Bill, drift apart during his long absences, she begins to rely on these new friends for support.
Sharon's relationships with her husband, her friends, and God are all tested when her son is lost in Washington, D.C. Throughout the journey to find her missing child, Sharon learns the importance of forgiveness and reaching out to others in need. Through Six Houses Down, readers are inspired to trust God and foster relationships in their own lives.
If you would like more information about this topic, or to schedule an interview with Kari Rimbey, please call Nickcole Watkins at 516.900.5674.
About the Author: Kari Rimbey is a mother, grandmother, and author. Kari is the writer of the award-winning short story "Who is Maria", and "Six Houses Down" is her first novel. Kari also has a decade of experience in teen ministry and now ministers to younger children through her church. Kari has three daughters and six grandchildren, and currently lives in the Palouse region of Northeastern Washington.
More About This Title: Six Houses Down by Kari Rimbey will be released by Morgan James Publishing on June 25, 2019. Six Houses Down—ISBN 9781642792324—has 258 pages and is being sold as a trade paperback for $16.95
About Morgan James Publishing: Morgan James publishes trade quality titles designed to educate, encourage, inspire, or entertain readers with current, consistent, relevant topics that are available everywhere books are sold. (www.MorganJamesPublishing.com)
# # #