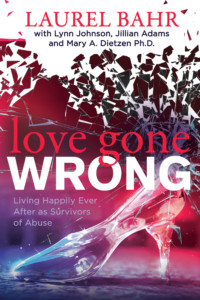 NEW YORK— July 28, 2020—Morgan James' new release, Love Gone Wrong: Living Happily Ever After as Survivors of Abuse by Laurel Bahr, is an extensive look at one woman's dark history with sexual abuse and how to help others move on with their scars. Written by a survivor of childhood abuse, along with testimonials by licensed professionals, Love Gone Wrong provides expert advice in the gentle, understanding tone needed to address such a sensitive and important topic. 
In Love Gone Wrong, Laurel Bahr shares a path to recovery for any survivor of abuse by describing out her own past as well as the experiences of close friends who have struggled with emotional, verbal, sexual or physical abuse. The relationships that they have are the key to understanding how survivors can move on and prepare themselves for a better future. These examples of success are why Love Gone Wrong is a story of hope and inspiration for any man, woman, or child who is a survivor of any kind of abuse.
Love Gone Wrong is a story about believing in redemption and the future that a survivor can manifest. Bahr uses the classic story of Cinderella to contrast her own upbringing and life as a survivor of childhood sexual abuse. Finding the extraordinary in the everyday is how Bahr creates a vivid modern fairytale that inspires any survivor to help cope with their trauma. 
If you would like more information about this topic, or to schedule an interview with Laurel Bahr, please call Nickcole Watkins at 516.900.5674.
About the Author: Laurel Bahr was a registered nurse for over 17 years, pastor for over 17 years, and a survivor of sexual abuse. She is uniquely qualified to speak hope to anyone struggling with brokenness. She really knows what it's like to be unable to make progress and change. By reading her story, victims of sexual abuse, domestic violence or their loved ones can benefit from the lessons learned as she recovered. She provides those with increased awareness, compassion, hope, and the courage to take a step towards their own healing. Laurel is currently an area director of SAVAnnon, Sexual Abuse Anonymous, and resides in Spokane, Washington.
More About This Title: Love Gone Wrong: Living Happily Ever After as Survivors of Abuse by Laurel Bahr, will be released by Morgan James Publishing on July 28, 2020. Love Gone Wrong—ISBN 9781642797695—has 260 pages and is being sold as a trade paperback for $17.95. 
About Morgan James Publishing: Morgan James publishes trade quality titles designed to educate, encourage, inspire, or entertain readers with current, consistent, relevant topics that are available everywhere books are sold. ( www.MorganJamesPublishing.com )