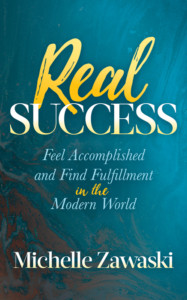 NEW YORK—September 3, 2019—Morgan James's new release, Real Success: Feel Accomplished and Find Fulfillment in the Modern World, by Michelle Zawaski, is a step-by-step guide for working adults who long for more than meeting the basic standards of achievement. Real Success identifies the human need for fulfillment in life, especially when it's no longer being found in a career, and explains how to rediscover that sense of fulfillment. Michelle Zawaski, an experienced coach and motivator, is determined to show career-minded men and women that the success they are striving for can be achieved.
Michelle Zawaski believes that when hard work and accomplishments don't lead to a sense of success, it may be time to redefine success. As an entrepreneur herself, Zawaski understands the appeal of checking off boxes to mark completed tasks, but she warns that the act of completion may not lead to long-term personal satisfaction. She tackles the question of why people can't seem to find contentment and what they need to do to breathe new life into the every day. Throughout Real Success, Zawaski helps working adults to define success on a personal level, find fulfillment, energizing themselves, and rekindling their passions without burdening their already hectic schedules.
Real Success is a guide for those serious about finally discovering their personal success. By featuring real-life examples in which people are able to achieve new results in previously constant situation, Real Success offers a framework that can be applied to anyone's life, to create more meaningful moments and a balanced lifestyle. Michelle Zawaski challenges the standard, everyday approach of work, and offers more time, energy, and excitement for those ready to embrace a better reality for themselves.
If you would like more information about this topic, or to schedule an interview with Michelle Zawaski, please call Nickcole Watkins at 516.900.5674
About the Author: Michelle Zawaski is an entrepreneur, coach, author, and motivator who helps others live life on their own terms for success and fulfillment. Certified through Life Purpose Institute, she molds techniques to fit individuals for long-lasting results at their pace. A nature-lover who enjoys relaxing in sunlight and moonlight, Michelle lives with her daughter in Bayside, New York.
More About This Title: Real Success: Feel Accomplished and Find Fulfillment in the Modern World, by Michelle Zawaski, will be released by Morgan James Publishing on September 3, 2019. Real Success—ISBN 9781642792386—has 108 pages and is being sold as a trade paperback for $12.95.
About Morgan James Publishing: Morgan James publishes trade quality titles designed to educate, encourage, inspire, or entertain readers with current, consistent, relevant topics that are available everywhere books are sold. (www.MorganJamesPublishing.com)
 # # #