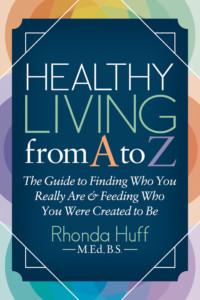 NEW YORK—September 3, 2019—Morgan James's new release, Healthy Living from A to Z: The Guide to Finding Who You Really Are and Feeding Who You Were Created to Be, by Rhonda Huff, shares simple tips for those striving to restore their health and love their life. Private trainer and speaker, Rhonda Huff, is excited to use her years of experience in health and wellness to create materials for those interested in healthier living. Healthy Living from A to Z is a practical and empowering guide with holistic applications.
For those who are overwhelmed and confused about the best ways to improve health, Healthy Living from A to Z  provides ways to find balance through practical life application. Rhonda Huff has studied under today's most influential doctors and therapists, and addresses many issues that have been highlighted in recent headlines, in order to uncover the keys to living a healthier, more fulfilled life. Throughout her writing, Huff lays out weekly activities  in an easily accessible format to teach simple techniques that change lives.
Healthy Living from A to Z is holistic in its approach, as it addresses emotional, nutritional, physical, and cognitive factors that can impact general health. By discussing the impact of diet, the right type of exercise, the importance of a good night's sleep, as well as addressing brain fog, Rhonda Huff walks readers through building powerful habits. She includes a bonus weekly video lesson to pair with each chapter, which gives ownership of the process to anyone looking to improve their daily health.
If you would like more information about this topic, or to schedule an interview with Rhonda Huff, please call Nickcole Watkins at 516.900.5674
About the Author: Rhonda Huff has worked in the fitness and wellness industry for over 30 years. She has a BS in Fitness/Wellness with a concentration in rehabilitation and an M.Ed. with a concentration in research and curriculum design. Rhonda is also a board-certified Holistic Health Coach through the Institute for Integrative Nutrition and the American Association of Drugless Practitioners and a certified Neuro-Linguistic and Hypnosis Practitioner through the NLP Center of New York. Rhonda is the founder of Body-in-Balance Wellness & Fitness Studio and the co-founder of the Center for Integrative Brain Health. Rhonda has helped thousands of people improve their lives through her online courses, speaking engagements, and private training. Rhonda currently resides in Newport News, VA but also calls Boonville, NC and NYC home
More About This Title: Healthy Living from A to Z: The Guide to Finding Who You Really Are and Feeding Who You Were Created to Be, by Rhonda Huff, will be released by Morgan James Publishing on September 3, 2019. Healthy Living from A to Z—ISBN 9781642793147—has 266 pages and is being sold as a trade paperback for $16.95.
About Morgan James Publishing: Morgan James publishes trade quality titles designed to educate, encourage, inspire, or entertain readers with current, consistent, relevant topics that are available everywhere books are sold. ( www.MorganJamesPublishing.com)
 # # #