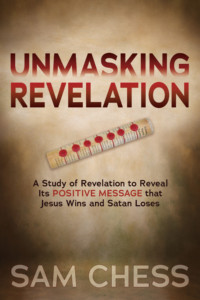 NEW YORK—March 17, 2020— The new release by Morgan James Publishing called Unmasking Revelation: A Study of Revelation to Reveal Its Positive Message that Jesus Wins and Satan Loses, by Sam Chess, breaks down the book of Revelation in the Bible to make the difficult understandable and to inspire awe and worship. According to Sam Chess, the book of Revelation is one section of the Bible that many Christians dislike and ignore. In Unmasking Revelation, Chess follows a chronological path from Daniel 9:24 to Revelation 22:21 with the aid of charts to show the complete unraveling of the prophesied End Times.
Unmasking Revelation helps Christians to see beyond the confusing, weird, and scary as they unfold Jesus' story of victory over Satan. Sam Chess knows that the book of Revelation was never meant to feared or skipped over. He walks through each section of the source text, simplifying the wording and concepts for all to understand. 
Rather than presenting a predetermined view or intentionally scaring readers, Unmasking Revelation paints vivid mental pictures that encompass the entirety of Jesus' victory over Satan. From the Rapture to the New Jerusalem (Heaven), Sam Chess sparks renewed interest in an often overlooked text. Chess claims that Christians should never fear what the book of Revelation says, but rather, they should be able to understand what is being conveyed and be filled with wonderment and strengthened faith.
 If you would like more information about this topic, or to schedule an interview with Sam Chess, please call Nickcole Watkins at 516.900.5674.
About the Author: Sam Chess is Senior and Founding Pastor of Grace Emmanuel Church with a passion for diving deeply into the Scriptures. He serves on the Treasure Coast Christian Alliance, which brings together local government officials, business leaders, and Clergy in unity and purpose. Sam studied the Bible at Hobe Bible College and received a master's degree from Trinity Evangelical Divinity School. He uses his background and experience to preach and write with aim to take the "Biblically difficult" and make it understandable. Sam resides in Port Saint Lucie, Florida, with his wife. 
More About This Title: Unmasking Revelation: A Study of Revelation to Reveal Its Positive Message that Jesus Wins and Satan Loses by Sam Chess, will be released by Morgan James Publishing on March 17, 2020. Unmasking Revelation—ISBN 9781642796001—has 296 pages and is being sold as a trade paperback for $19.99. 
About Morgan James Publishing: Morgan James publishes trade quality titles designed to educate, encourage, inspire, or entertain readers with current, consistent, relevant topics that are available everywhere books are sold. 
( www.MorganJamesPublishing.com )
# # #