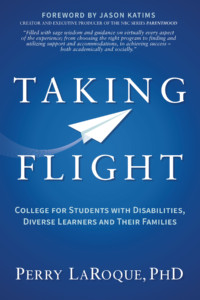 NEW YORK—March 17, 2020— Morgan James' new release, Taking Flight: College for Students with Disabilities, Diverse Learners and Their Families, by Perry LaRoque, is the ultimate guide for current and future students with learning disabilities, autism spectrum disorders, ADHD, and other diverse learners to be successful in college. This unique and enlightening road map is designed to help families, educators, and students navigate and understand the complexity of college outside of academics. 
In Taking Flight, parents learn how to break down the barriers in their own lives while their children can better prepare for life outside of home and high school. Perry LaRoque understands that the college experience isn't just about learning; it's about living and engaging with new people and ideas. LaRoque expresses that college is: "the greatest Young Adult training system in the world." He claims that the purpose of college isn't to get good grades, but rather, to gain life skills and become more independent. Through humor, real-life stories, and advice, LaRoque discusses how the college experience is not designed for today's diverse learners, unless they overcome the system with pragmatic skills. 
Taking Flight is about having a successful college experience, particularly focusing on the practical and social aspects of life. LaRoque explore the concept of disability and how that relates to learning in college and challenges students to focus on their strengths and own their differences. He provides methods for achieving success in all areas of college, so long as the student demonstrates willingness, interest and desire to grow and change.
If you would like more information about this topic, or to schedule an interview with Perry LaRoque, please call Nickcole Watkins at 516.900.5674.
About the Author: Perry T. LaRoque is the Founder and President of Mansfield Hall, an innovative residential college support program for students with ASD and related learning differences, located in Burlington, VT, Madison, WI and Eugene, OR. Prior to launching Mansfield Hall, Perry served as a professor at several colleges, including Johnson State College, SUNY-Potsdam, and UW-Whitewater. Before completing his doctorate at the University of Wisconsin, Perry was a special educator in California and Wisconsin. His passion for working with children came from his upbringing at YMCA Camp Minikani.  He currently resides in Burlington, Vermont with his wife and two children.
More About This Title: Taking Flight: College for Students with Disabilities, Diverse Learners and Their Families by Perry LaRoque will be released by Morgan James Publishing on March 17, 2020. Taking Flight—ISBN 9781642796063—has 238 pages and is being sold as a trade paperback for $17.95. 
About Morgan James Publishing: Morgan James publishes trade quality titles designed to educate, encourage, inspire, or entertain readers with current, consistent, relevant topics that are available everywhere books are sold. 
( www.MorganJamesPublishing.com )
 # # #