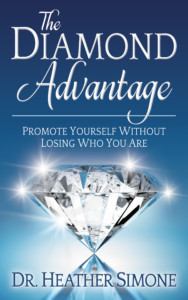 NEW YORK—November 12, 2019—Morgan James' new release, The Diamond Advantage: Promote Yourself Without Losing Who You Are by Dr. Heather Simone, is a guide that helps businesswomen find fulfillment both in their career and in their personal lives. Dr. Simone believes female entrepreneurs can and should have it all, and she sets out to help them get it in The Diamond Advantage.
Featuring Dr. Simone's signature PRISM model — an acronym for Personal, Relationship, Intellectual, Spiritual and Master Professional — The Diamond Advantage: Promote Yourself Without Losing Who You Are offers a five dimensional model that women can follow to obtain career-life balance. Drawing from her own experience in the professional world, award-winning corporate executive Dr. Simone demonstrates how to navigate climbing the corporate ladder while also cultivating healthy relationships.
Beyond just a business book, The Diamond Advantage helps women discover what makes them unique and powerful in every area of life, inspiring them to embrace their individuality and step into a purpose-driven life. Dr. Simone guides the next generation of female leaders to own their success, pursue their professional goals, and find time for themselves along the way. Success and fulfillment in every area of life is possible, and The Diamond Advantage drives women to it.
If you would like more information about this topic, or to schedule an interview with Dr. Heather Simone, please call Nickcole Watkins at 516.900.5674.
About the Author: Dr. Heather Simone's award-winning work in strategy and leadership is augmented by her academic research in optimizing diverse teams. She holds a Doctorate from Capella University, as well as MBA and BS degrees. Heather's passions include international travel, community service, and attending theater and fashion shows. She resides with her family in Somerset, NJ.
More About This Title: The Diamond Advantage: Promote Yourself Without Losing Who You Are by Dr. Heather Simone will be released by Morgan James Publishing on November 12, 2019. The Diamond Advantage—ISBN 978-1642794205—has 200 pages and is being sold as a trade paperback for $16.95
About Morgan James Publishing: Morgan James publishes trade quality titles designed to educate, encourage, inspire, or entertain readers with current, consistent, relevant topics that are available everywhere books are sold. (www.MorganJamesPublishing.com)
# # #