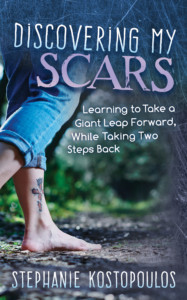 NEW YORK—January 14, 2020—Morgan James's new release, Discovering My Scars: Learning to Take a Giant Leap Forward, While Taking Two Steps Back, by Stephanie Kostopoulos, is a moving account of a young woman's struggle with depression and self-harm. Stephanie Kostopoulos first-hand account shares her honest and raw experiences with mental illness, the psychiatric system, childhood abuse, and the faith that set her free.
In Discovering My Scars, Stephanie Kostopoulos shares how one moment of self-injury landed her in the psychiatric ward of a hospital for 74 hours. Kostopoulos describes how those traumatic hours impacted her life for years after, until she came to see the trauma through the lens of self-forgiveness, ongoing recovery, and God's grace of revelation. She makes herself vulnerable throughout Discovering My Scars, describing her journey through young adulthood and revealing moments from her childhood in raw detail, to emphasize the need for victims of abuse to seek counseling, recovery, and healing.
Discovering My Scars commands attention and contains a powerful message within the pages of Stephanie's Kostopoulos' first-person account. It is packed with revelations about what can cause seemingly inexplicable anxiety and depression, and gives others the freedom to discover the root of their own fears and discover true peace and forgiveness. Stephanie Kostopoulos encourages self-reflection and recovery for adolescents and adults who have yet to come to grips with their pain, whether it is caused by an outward violation of boundaries or an internal battle with self-hatred.
If you would like more information about this topic, or to schedule an interview with Stephanie Kostopoulos, please call Nickcole Watkins at 516.900.5674
About the Author: Stephanie Kostopoulos has spent over 12 years "Discovering Her Scars" through one-on-one therapy with a professional psychologist. The insights and experience she gained, along with years in a Christ-Centered 12-step program, shines through in her writing. Her authentic first-person voice shows readers a clear, compelling, and inspiring journey of recovery. Stephanie is a full-time online content creator and co-founder of Mother Daughter Projects where she and her mom produce DIY videos for homeowners. She resides in Tallahassee, Florida
More About This Title: Discovering My Scars: Learning to Take a Giant Leap Forward, While Taking Two Steps Back, by Stephanie Kostopoulos, will be released by Morgan James Publishing on January 14, 2020. Discovering My Scars —ISBN 9781642795172—has 154 pages and is being sold as a trade paperback for $14.99.
About Morgan James Publishing: Morgan James publishes trade quality titles designed to educate, encourage, inspire, or entertain readers with current, consistent, relevant topics that are available everywhere books are sold. (www.MorganJamesPublishing.com)
 # # #