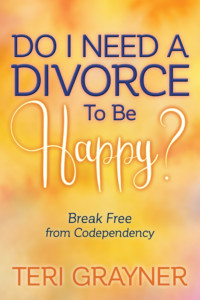 NEW YORK—January 14, 2020—Morgan James's new release, Do I Need a Divorce to Be Happy? Break Free From Codependency, by Teri Grayner, helps those who are ready to reclaim their lives without ending their marriage. With over eighteen years of work as a counselor, Teri Grayner wants marriage to work for both partners, and encourages those who have routinely subjugated their desires to the needs of others to begin the hard work of pursuing their dream. 
In Do I Need a Divorce to Be Happy?, Teri Grayner guides those who have spent their lives focusing on other people's happiness to put themselves first without guilt. Her 10-Step Reinvented Process covers everything one needs to learn to break free from financial codependency. Instead of spending years trying to balance marriage and one's own dreams, Grayner hopes that spouses will discover the truth about why they have procrastinated in following through with their financial independence. 
Teri Grayner wants to help disappointed spouses to learn if financial independence is right for them. She emphasizes how earning a good living and leading a life of meaningful purpose do not have to be predicated by divorce, but rather, they can exist within a marriage relationship. Grayner knows how to avoid time-wasting habits and focus on the goal of financial independence, so that spouses can break free from codependent behavior. Codependency itself is an addictive behavior, but Do I Need a Divorce to Be Happy? can help those who are ready to make the changes required to reclaim their lives.
If you would like more information about this topic, or to schedule an interview with Teri Grayner, please call Nickcole Watkins at 516.900.5674
About the Author: Teri Grayner has been working in the counseling profession for over eighteen years. She is most known for her inspirational spirit, holding her clients in high regard while working though their challenges in early recovery from the disease of addiction. She knows what it takes to create a solid foundation for a long-term recovery. Her practical approach, insight, and intuitive healing sensitivity make her unique in the counseling field. Teri holds a master's degree in professional counseling from Capella University and is a Licensed Alcohol and Drug Counselor. Her 10-Step Process of being REINVENTED is the working knowledge anyone seeking success will need. She is advertised on the Psychology Today website and has a private practice in Ridgewood, NJ. She resides in Dumont, NJ
More About This Title: Do I Need a Divorce to Be Happy? Break Free From Codependency, by Teri Grayner, will be released by Morgan James Publishing on January 14, 2020. Do I Need a Divorce to Be Happy? —ISBN 9781642795035—has 114 pages and is being sold as a trade paperback for $9.95.
About Morgan James Publishing: Morgan James publishes trade quality titles designed to educate, encourage, inspire, or entertain readers with current, consistent, relevant topics that are available everywhere books are sold. ( www.MorganJamesPublishing.com )
 # # #