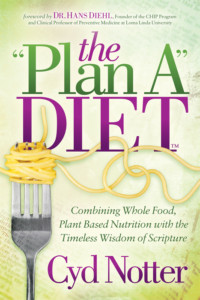 NEW YORK—November 1, 2019—Morgan James' new health book release, The "Plan A" Diet: Combining Whole Food, Plant Based Nutrition with the Timeless Wisdom of Scripture by Cyd Notter, is a proven guide to improving health that is in harmony with God's design. The "Plan A" Diet was written for anyone that wants to reverse their declining health condition without relying on traditional, failed dieting attempts.
Many people want to get healthy, but after trying a large variety of diet plans that all fail to make the lasting improvement they promise, these people are left nutritionally confused as their health continues to decline. Counting calories and relying on one's own willpower to restrict food is not the answer, however. The "Plan A" Diet, created by Cyd Notter from extensive study of nutrition and scripture, makes all of the old dieting methods unnecessary, as it provides a natural and gimmick-free way to fix many health problems.
Aside from the many other benefits it provides, the "Plan A" Diet is the only diet proven to reverse heart disease, the leading cause of death for both men and women. The secret to its success is that this diet is based on God's first prescribed diet for mankind, which research has shown to still be ideal today. Using this scriptural wisdom, Notter has crafted a 7-day meal plan and 5-week transition plan that is possible for anyone to implement. In The "Plan A" Diet, Notter also includes helpful tips and insights, recipe ideas, and Biblical encouragement and discussion questions.
If you would like more information about this topic, or to schedule an interview with Cyd Notter, please call Nickcole Watkins at 516.900.5674.
About the Author: Cyd Notter is a writer, entrepreneur and certified dietary instructor with decades of experience studying both scripture and nutrition. Notter graduated from the Center for Nutrition Studies and now provides nutritional coaching on both individual and corporate levels. Notter also wrote a health column, called "The Nutrition Coach", which ran for seven years in several newspapers. She eventually used her extensive nutritional and Biblical studies to create The "Plan A" Diet and the "Wonderfully Made" ministry, which combine Biblical principles with nutrition. Notter currently lives in Illinois with her husband.
More About This Title: The "Plan A" Diet: Combining Whole Food, Plant Based Nutrition with the Timeless Wisdom of Scripture by Cyd Notter will be released by Morgan James Publishing on October 1, 2019. The "Plan A" Diet— ISBN 9781642793703—has 280 pages and is being sold as a trade paperback for $17.99
About Morgan James Publishing: Morgan James publishes trade quality titles designed to educate, encourage, inspire, or entertain readers with current, consistent, relevant topics that are available everywhere books are sold. (www.MorganJamesPublishing.com)
# # #