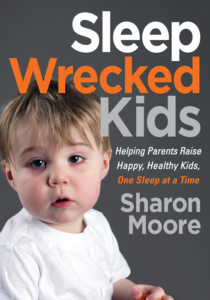 NEW YORK—November 5th, 2019—Morgan James' new parenting book release, Sleep Wrecked Kids: Helping Parents Raise Happy, Healthy Kids, One Sleep at a Time by Sharon Moore, provides parents with a clear method to fixing their children's sleep problems. With one fourth of all children ages 4 to 10 struggling with poor sleep and up to 40 percent, Sleep Wrecked Kids serves as an invaluable tool for parents everywhere.
"Bad sleep" is connected to countless health problems, both as a byproduct and a cause. Sleep disorders in children can cause learning problems, impacting every domain of their development and can be the catalyst to a lifetime of health and behavioral issues. However, many children with sleep issues are often missed, dismissed or misdiagnosed. Sleep Wrecked Kids helps parents ensure that their children's issues are being addressed and that they're getting the quality sleep they need in order to be healthy and thriving.
Sharon Moore utilizes her decades of experience as an allied medical professional to help parents understand their children's sleep complications and address the underlying causes. In Sleep Wrecked Kids, she guides parents to identify the red flags of sleep issues early on, such as resisting going to bed, snoring, or waking up throughout the night, and helps offer solutions to the medical issues that can cause such struggles, such as poor respiratory health. Moore also acknowledges that the parent getting proper sleep is equally as important to a child's wellbeing as the child's own sleep habits, thus Sleep Wrecked Kids helps ensure that the entire home is getting a healthy, restful night's sleep.
If you would like more information about this topic, or to schedule an interview with Sharon Moore, please call Nickcole Watkins at 516.900.5674.
About the Author: Sharon Moore currently resides in Canberra, Australia, where she runs a private practice 'Well Spoken' for patients of all ages. She has four decades of clinical experience under her belt, both as a speech pathologist and myofunctional practitioner and currently as part of the transdisciplinary team for the Canberra Sleep Clinic in Canberra, Australia. She presents at scientific conferences nationally and internationally on diagnosis and treatment for upper airway disorders including sleep-disordered breathing and is a proud supporter of B1G1 Business for Good, and SCAW, Sleeping Children around the World. In fact, "Every time a copy of Sleep-Wrecked Kids is sold, Sharon Moore is supporting kids who need a bed to sleep in at night, through SCAW. Every time a patient with a sleep problem is seen, Moore supports education and health projects globally through B1G1."
'At Well Spoken, it's our mission that every child gets the sleep they need every night to be healthy and happy.'
More About This Title: Sleep Wrecked Kids: Helping Parents Raise Happy, Healthy Kids, One Sleep at a Time by Sharon Moore will be released by Morgan James Publishing on November 5, 2019. Sleep Wrecked Kids—ISBN 978-1642793963—has 234 pages and is being sold as a trade paperback for $19.95
About Morgan James Publishing: Morgan James publishes trade quality titles designed to educate, encourage, inspire, or entertain readers with current, consistent, relevant topics that are available everywhere books are sold. (www.MorganJamesPublishing.com).
# # #