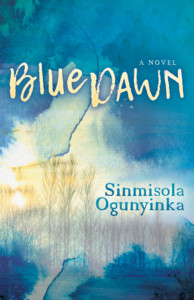 NEW YORK—January 14, 2020—Morgan James's new release, Blue Dawn: A Novel, by Sinmisola Ogunyinka, is the story of a mother who goes all out to find justice for her murdered daughters. As a writer interested in telling stories with high stakes and unique settings, Sinmisola Ogunyinka shares her newest tale of revenge and resilience with palpable passion. Inspired by a true story, Blue Dawn features frustrated mother Shakira Smith as she risks everything to find the person responsible for killing her children. 
Blue Dawn depicts the journey of African-American protagonist Shakira Smith, mother of two daughters and teacher of physically challenged children. The story begins with Shakira being called home after her daughters, left in the care of Nigerian-born babysitter Florence Odu, were discovered drowned in the bathtub. When Shakira arrives, Florence is nowhere to be found, and the authorities declare the babysitter to be a person of interest in the death of the two babies, Leila and Latoya. With her world torn apart, Shakira decides to go after Florence without the assistance of law enforcement or her husband, and embarks on a life changing journey to Nigeria.
A mother herself, Sinmisola Ogunyinka was inspired to write Blue Dawn after learning of a similar crime committed against seven babies in Texas. Ogunyinka chose to transport this story to Nigeria in order to increase the scope and tension of Shakira's journey, as she describes the African country through the eyes of an American. Blue Dawn is a daunting tale of cultural differences, risk-taking, and the lengths a mother will go for her children.
If you would like more information about this topic, or to schedule an interview with Sinmisola Ogunyinka, please call Nickcole Watkins at 516.900.5674
About the Author: Sinmisola "Sinmi" Ogunyinka is a writer and producer who enjoys creating stories across different cultures. In a 2013 collaborative effort, she wrote and co-produced the Nigerian movie, Red Hot, with the award-winning Nigerian director, Teco Benson, which went on to win an international award. Since then, Sinmi has freelanced for different online blogs besides writing short stories on her own. Sinmi has a bachelor's degree in Economics from her home country, is a Craftsman (Mentorship Program) of the Jerry B. Jenkins' former Christian Writers' Guild and is currently pursuing a master's degree in Creative Writing. When she's not at work in her day job or crafting stories in her unique style, she enjoys singing and dancing karaoke with her four kids and husband where they currently reside in Philadelphia, Pennsylvania. Sinmi has written and self-published more than forty books including the award-winner, The Days after that Night
More About This Title: Blue Dawn: A Novel, by Sinmisola Ogunyinka, will be released by Morgan James Publishing on January 14, 2020. Blue Dawn —ISBN 9781642794977—has 300 pages and is being sold as a trade paperback for $14.95.
About Morgan James Publishing: Morgan James publishes trade quality titles designed to educate, encourage, inspire, or entertain readers with current, consistent, relevant topics that are available everywhere books are sold. ( www.MorganJamesPublishing.com )
 # # #