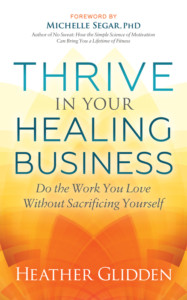 NEW YORK—January 14, 2020—Morgan James's new release, Thrive in Your Healing Business: Do the Work You Love Without Sacrificing Yourself, by Heather Glidden, helps health professionals bring back the joy to their work. As the owner of multiple health studios, Heather Glidden understands how working in the healing arts can often be an overwhelming and disheartening experience. Thrive in Your Healing Business hopes to encourage others working in the same field fight against burnout and engage with the beneficial aspects of their career.
Heather Glidden can relate to feeling exhausted after a full day of helping clients and patients, to the point that enjoying time with family and friends becomes a chore. She knows that owning a health practice causes additional stress that many other positions avoid, whether those concerns come from a place of financial worry or lacking self-confidence. As a healing arts practitioner and business owner for fifteen years, Glidden is motivated to share the techniques she's learned to balance a career in health and wellness with a passionate, enjoyable life. 
Thrive in Your Healing Business provides a detailed explanation regarding how one can replenish their own energy and maintain healthier boundaries. Glidden wants health professionals to spread their positivity around, which will yield better results with clients, while still making time for themselves and their loved ones. Rather than allowing themselves to be bogged down with work, she wants to teach other healers how to get the care they need and crave. Heather Glidden is excited to examine the causes of burnout in the healing profession, so that others can end the burnout cycle permanently, as she has.
If you would like more information about this topic, or to schedule an interview with Heather Glidden, please call Nickcole Watkins at 516.900.5674
About the Author: Heather Glidden is an integrative coach, a healing movement specialist, and the owner of multiple successful healing arts studios. Her own struggles with burn-out while running her first studio launched her on a quest to learn how to balance the healing work that she felt called to do with a healthy life outside the studio. Heather lives in Ann Arbor, Michigan with her husband and two dogs
More About This Title: Thrive in Your Healing Business: Do the Work You Love Without Sacrificing Yourself, by Heather Glidden, will be released by Morgan James Publishing on January 14, 2020. Thrive in Your Healing Business —ISBN 9781642795158—has 138 pages and is being sold as a trade paperback for $14.95.
About Morgan James Publishing: Morgan James publishes trade quality titles designed to educate, encourage, inspire, or entertain readers with current, consistent, relevant topics that are available everywhere books are sold. ( www.MorganJamesPublishing.com )
 # # #