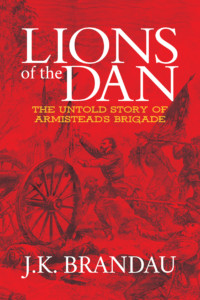 NEW YORK—September 3, 2019—Morgan James's new release, Lions of the Dan: The Untold Stormy of Armistead's Brigade, by J. K. Brandau, chronicles the actions of men from Pickett's Charge throughout the full course of the Civil War. While time-honored celebrations of Armistead and Pickett focus narrowly on moments at Gettysburg, J. K. Brandau has studied primary sources to declare the untold story of the best of men in the worst of times, as well as to refute myths surrounding Armistead and Pickett. Written by retired scientist J.K. Brandau, Lions of the Dan widens the aperture to introduce real heroes and amazing deeds that have been suppressed until now.
Lions of the Dan presents never-before-published information and overlooked details of Pickett's Charge from primary sources. J. K. Brandau describes the experiences of real soldiers in their own words and highlights the much-ignored history of Southside Virginia, presenting the Civil War from a unique, regional perspective. History enthusiasts and students alike may find their initial notions challenged as they read an objective account of Virginia's secession and celebrate the courage and devotion of soldiers on both sides.
Rather than diminishing the accomplishments of Southside Virginian forces, J. K. Brandau highlights and celebrates the courage and devotion of soldiers throughout the Civil War. Brandau describes actions of local significance located in Williamsburg, Chester Station, Drewry's Bluff, and the Howlett Line. He studies the motives and choices that led to Virginia's secession without the common bias of many texts, as he is determined to provide fans and students of American History with a rich, detailed account.
If you would like more information about this topic, or to schedule an interview with J. K. Brandau, please call Nickcole Watkins at 516.900.5674.
About the Author: J. K. Brandau was born in Richmond, Virginia and grew up in Richmond's Southside. This life-long Virginian and Civil War buff graduated from Old Dominion University with a B.S. in Chemistry and retired in 2017 as lead chemist for Newport News Shipbuilding. Brandau authored scores of privately shared monographs, some of which appeared as articles in magazines and historical society journals, as well as Murder At Green Springs: The True Story of the Hall Case, Firestorm of Prejudices. He currently resides in Williamsburg, Virginia.
More About This Title: Lions of the Dan: The Untold Stormy of Armistead's Brigade, by J. K. Brandau, will be released by Morgan James Publishing on September 3, 2019. Lions of the Dan—ISBN 9781642793086—has 296 pages and is being sold as a trade paperback for $18.95.
About Morgan James Publishing: Morgan James publishes trade quality titles designed to educate, encourage, inspire, or entertain readers with current, consistent, relevant topics that are available everywhere books are sold. (www.MorganJamesPublishing.com)
 # # #