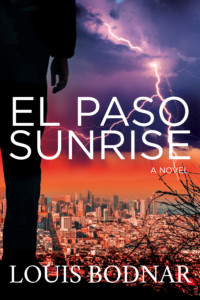 NEW YORK—September 24, 2019—Morgan James's new release, El Paso Sunrise, by Louis Bodnar, is an intense psychological and timely political thriller that comments on the chaotic and addictive nature of modern society. Retired lawyer Louis Bodnar depicts the corruption of North American politics and the outside threats to its national security within a story that foreshadows a coming Second American Civil War. El Paso Sunrise is the first of two stand-alone novels that weave together a tale of love, passion, obsession, intense hate, pure evil, violence, and horror, all brought keenly alive against the panorama of the radical transformation of America.
Within the pages of El Paso Sunrise, Bodnar describes a dystopian future in which the United States Government is shifting from a Constitutional Republic to a Marxist Dictatorship in an impending Second American Civil War. The story focuses on the life of Steven Vandorol, a lawyer leading the Texas prosecution of federal government corruption, and who is being hunted by a terrorist assassination squad. Steven's journey brought him from Washington D.C., where he found himself embroiled in evil, corruption, sexual obsession, and addiction before confronting his own demons to find peace and serenity in El Paso.
Louis Bodnar portrays a future transformed by leftist progressives, Islamist radicals, ISIL, Hezbollah, Hamas, and the spreading malignancy of a worldwide Islamist Muslim Caliphate. Bodnar writes a compelling story of pain, crisis, survival and transformation that draws dark conclusions regarding our current political state and culture. While El Paso Sunrise is a novel about evil in this world, it is also a timeless love story about goodness, faith, grace, and friendship, blossoming during a national emergency—a call to the world to remember what truly matters.
If you would like more information about this topic, or to schedule an interview with Louis Bodnar, please call Nickcole Watkins at 516.900.5674
About the Author: Louis Bodnar is a naturalized American citizen, born in Vilshofen, Germany, as his Hungarian parents fled from Budapest at the end of World War II. Louis immigrated to Brazil with his mother and older brother before immigrating to the United States to join his family in South Bronx, New York City. He received an undergraduate degree from Oklahoma State University, a Juris Doctorate from the University of Oklahoma College of Law and was a candidate for an L.L.M. at Georgetown University Law Center in Washington, D.C. Louis practiced law in Oklahoma, Washington D.C., Dallas and El Paso, Texas, and is now retired, working at Glenpool High School and living with his wife, Joan, in Broken Arrow, Oklahoma.  While actively practicing law in El Paso, Texas, from 1987 to 2002, he was an Associate Municipal Judge for the City of El Paso and a Special Prosecutor leading the case of the State of Texas v. Maury Kemp, et al., insurance fraud case that was then the single largest insurance fraud case in Texas to that time.
More About, This Title: El Paso Sunrise, by Louis Bodnar, will be released by Morgan James Publishing on September 24, 2019. El Paso Sunrise—ISBN 9781642793253—has 292 pages and is being sold as a trade paperback for $17.95.
About Morgan James Publishing: Morgan James publishes trade quality titles designed to educate, encourage, inspire, or entertain readers with current, consistent, relevant topics that are available everywhere books are sold. (www.MorganJamesPublishing.com)
 # # #