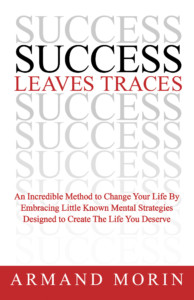 NEW YORK—June 2, 2020—Morgan James' new release, Success Leaves Traces: An Incredible Method to Change Your Life By Embracing Little Known Mental Strategies Designed to Create the Life You Deserve, by Armand Morin, outlines five essential elements for success in any area of life. Success Leaves Traces guides motivated individuals on a proven path to accomplish their professional and personal goals and achieve financial security.
Armand Morin is the founder of an 80 million dollar business, as well as a best-selling country music artist and an internationally acclaimed speaker. Beginning with nothing, he built his legacy as one of the world's most renowned internet marketers from the ground up. Morin attributes his achievement to what he believes to be easily implemented techniques for success. He models these techniques in Success Leaves Traces, explaining how to focus on one's dreams, design a clear path to reach those dreams, and ultimately perform like a millionaire.
Success Leaves Traces is not just for succeeding in business and finance. Armand Morin's five essential elements for success can be put into action toward accomplishing any goal, from career ambitions to personal growth to physical goals and beyond. With each chapter, Morin shares details of his own journey to success and describes how his experiences led him to create one of the world's longest running internet business empires. Following in Morin's footsteps, men and women will learn to overcome any obstacle in their path and accomplish whatever they set their focus on with Success Leaves Traces. 
If you would like more information about this topic, or to schedule an interview with Armand Morin, please call Nickcole Watkins at 516.900.5674.
About the Author: Going from having mere dollars in his pocket to growing several multimillion-dollar businesses in just a few years, self-made entrepreneur and online business pioneer Armand Morin knows exactly what it takes to achieve fulfilling, lasting, richly rewarding success. As one of the world's most well know internet marketers and most in-demand speakers, he has trained and transformed the lives of thousands of people across the globe, and he often shares the stage with the likes of Mark Victor Hansen (co-author of the Chicken Soup For The Soul® series), Loral Langemeier, T. Harv Ecker, Les Brown, and Robert Allen, just to name a few. Armand currently resides in Raleigh, NC.
More About This Title: Success Leaves Traces by Armand Morin will be released by Morgan James Publishing on June 2, 2020. Success Leaves Traces—ISBN 9781600378782—has 200 pages and is being sold as a trade paperback for $17.95.
About Morgan James Publishing: Morgan James publishes trade quality titles designed to educate, encourage, inspire, or entertain readers with current, consistent, relevant topics that are available everywhere books are sold. (www.MorganJamesPublishing.com)