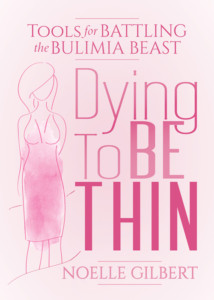 NEW YORK—June 2, 2019—Morgan James' new release, Dying To Be Thin: Tools for Battling the Bulimia Beast, by Noelle Gilbert, is a comprehensive resource for women struggling to overcome their eating disorder. Noelle Gilbert draws from her nursing background and personal experiences as she shares her journey to a life free from the chains of Bulimia. 
After battling Bulimia for over twenty years, Noelle Gilbert has conquered the mental and physical hurdles of living with an eating disorder. Thankful for her personal development, Gilbert is determined to help those wrestling with similar demons. Dying To Be Thin helps those struggling with Bulimia and other eating disorders to transform their mindset, their personal narrative, and their relationships.
In Dying To Be Thin, Noelle Gilbert provides unconventional strategies for women to regain power and strength over Bulimia. Gilbert offers personal, raw accounts of her experience as she explains how conventional treatments don't work for all women. She offers suggestions on how to interrupt the cycle of binging and purging and methods to heal the mind and body. Gilbert hopes to empower women throughout their journey of healing and self-acceptance. 
If you would like more information about this topic, or to schedule an interview with Noelle Gilbert, please call Nickcole Watkins at 516.900.5674 
About the Author: Noelle Gilbert received her bachelor's degree in nursing in 2008 from Idaho State University and went on to practice correctional nursing and eventually home health nursing for the next 10 years. After her divorce in 2013, Noelle's life spiraled out of control and her battle with bulimia that began as a young child reared its ugly head and took control of her life. Her zest for health, both mentally and physically, lead her to become a certified personal trainer and health coach so that she could inspire others along their journey to complete wellness. Noelle is eager and excited to share her triumphant story and methods with those that are ready to hear them. She currently resides in Chubbuck, Idaho.
More About This Title: Dying To Be Thin: Tools for Battling the Bulimia Beast, by Noelle Gilbert, will be released by Morgan James Publishing on June 2, 2020. Dying To Be Thin—ISBN 9781642797244 —has 134 pages and is being sold as a trade paperback for $12.95.
About Morgan James Publishing: Morgan James publishes trade quality titles designed to educate, encourage, inspire, or entertain readers with current, consistent, relevant topics that are available everywhere books are sold. ( www.MorganJamesPublishing.com )