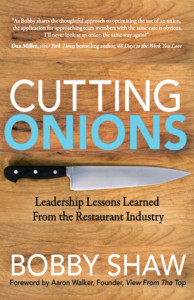 NEW YORK—March 10, 2020— Morgan James' new release, Cutting Onions: Leadership Lessons Learned From the Restaurant Industry by Bobby Shaw, is an inspiring tag-along journey of leadership starting from an hourly position at McDonald's followed by the experiences it took to overcome challenges plaguing the continuously revolving and robust food and beverage service. Leaders learn to rid the stigma of surrounding themselves with people who might be better than they are while leaving a lifelong impact on many employees. Bobby Shaw explains how these impacts of leadership have imprinted on his own life and how these lessons reshaped his mentality and dedication, and the inevitable domino effect it has for others. 
 Leaders are not born without trials and Cutting Onions doesn't suggest otherwise. Bobby Shaw shares that working in the restaurant industry is a humbling experience, one that often inspires employees to leave unless their boss motivates them to stay. Hard work is noticed, rewarded and molded into growth and evolution.  Shaw explains that powerful leadership is leveraging influence to get others to do more than they thought they could. These principles apply to every area of leadership and not just the restaurant industry.
In Cutting Onions, Bobby Shaw introduces lessons for setting new standards for others to want to live up to. Shaw shows how it's the team's responsibility to train and invest in a new employee, to encourage them to stay and flourish. He guides leaders to see that investing time and energy in employee development can pay huge dividends in the life of someone that doesn't expect it. A leader's journey of how they get to their goal is just as important as getting there.
If you would like more information about this topic, or to schedule an interview with Bobby Shaw, please call Nickcole Watkins at 516.900.5674.
About the Author: Recognized in 2016 by Fast Casual in their annual Top 100 report as a Top 25 Executive, Bobby Shaw has over three decades of experience as a restaurant executive with a passion for leadership development. With his passion for developing people, Bobby coaches and consults with high level leaders on how to understand their strengths to improve their results not only in their restaurants, but in every area of their life.
More About This Title: Cutting Onions: Leadership Lessons Learned From the Restaurant Industry by Bobby Shaw, will be released by Morgan James Publishing on March 10, 2020. Cutting Onions—ISBN 9781642795783—has 198 pages and is being sold as a trade paperback for $17.95. 
About Morgan James Publishing: Morgan James publishes trade quality titles designed to educate, encourage, inspire, or entertain readers with current, consistent, relevant topics that are available everywhere books are sold. 
( www.MorganJamesPublishing.com )
 # # #