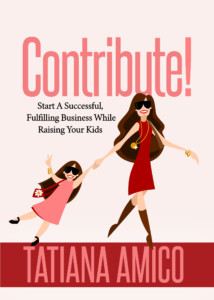 NEW YORK—February 11, 2020—Morgan James's new release, Contribute! Build a Successful Business You Love While Raising Your Kids, by Tatiana Amico, shares the secret of how to balance motherhood and entrepreneurship. Tatiana Amico, a successful entrepreneur and mother of two children, explains how to design a business that can support a family without missing out on the joys of parenting. 
Contribute! is for women who are ready to build a business they are passionate about, one they will look forward to each day as they earn money for their families. Tatiana Amico is excited to teach women how to work from home effectively, while still being present and available for their children. Amico helps women identify what type of business they should start and why they haven't previously started this business. She explains how to make a remote business work within a limited window of time and demonstrates the skills necessary to create a successful, enjoyable business. 
Tatiana Amico wants for mothers to see themselves as complete individuals, looking beyond their roles as caregivers and supportive figures. In Contribute, she shows women how to commit to a vision for their business: by examining the hidden desires of their heart, the unexplored dreams and the skills they've developed without realizing it. Amico claims that mothers can effectively plan and strategize for the future only after they embrace their authentic selves. 
If you would like more information about this topic, or to schedule an interview with Tatiana Amico, please call Nickcole Watkins at 516.900.5674
About the Author: Tatiana Amico decided to leave corporate America and become a stay-at-home mom with her first son. Soon after, she realized she was meant to do more and wanted to help her family financially. So, she decided to start a business from home to contribute financially while still being able to care for her son. Tatiana is a certified health coach, successful entrepreneur, influencer, speaker, podcaster, and business mentor. She specializes in helping women gain clarity on what it is they want in their lives, see their potential, take action, and see massive results. In 2014, she joined a health and fitness network marketing company. She built up a highly successful business quickly by helping hundreds of women with their health and building a team of wellness entrepreneurs. Now, she is excited to take all of her skills to continue to grow her health business and team and help women who want to build a successful business from home that lights them up inside. Tatiana currently resides in Tonawanda, NY.
More About This Title: Contribute! Build a Successful Business You Love While Raising Your Kids, by Tatiana Amico, will be released by Morgan James Publishing on February 11, 2020. Contribute! —ISBN 9781642795509—has 128 pages and is being sold as a trade paperback for $14.95.
About Morgan James Publishing: Morgan James publishes trade quality titles designed to educate, encourage, inspire, or entertain readers with current, consistent, relevant topics that are available everywhere books are sold. ( www.MorganJamesPublishing.com )
 # # #