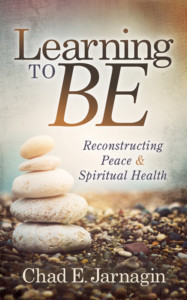 NEW YORK—February 11, 2020—Morgan James's new release, Learning to BE: Reconstructing Peace & Spiritual Health, by Chad E. Jarnagin, challenges the modern approach of deconstructing Christian theology for the sole sake of dismantling it, rather than for the purpose of repairing and replacing broken theology with truth. As an Anglican Priest, Chad E. Jarnagin is concerned for the younger generation of believers who seem to be abandoning their faith out of fatigue and frustration with the culture of Christianity and the abuses of the modern church. 
Learning to BE explains that there is an alarming number of people leaving the Christian church due to a subversive moment of deconstructionist theology. Chad E. Jarnagin understands that the process of deconstructing one's faith can be helpful, but he claims that, without intentional reconstruction, people end up doing more harm than good. He recognizes that many Christians are returning to the liturgy of the early Church as an antidote to the overly-produced mega-church reality of modern Christianity. In Learning to BE, Jarnagin shares his life-changing approach to develop healthy and consistent spiritual growth.
Chad E. Jarnagin posits that people are not able to move forward with new, healthy practices without first identifying and healing from past toxins, abuse, and unhealthy behaviors. Jarnagin identifies the past hurdles many believers face in order to show them how to move beyond those hurdles, emphasizing the need for stillness, reflection, and a slower pace. He also provides weekly worship directions and traditions that can reorient a life of confusion into one of devotion. Jarnagin addresses the spiritual practices specific to Anglicanism, as well as Benedictine and Ignatian Spirituality, in order to help adults of all sectors of faith to rebuild and heal from past betrayals. 
If you would like more information about this topic, or to schedule an interview with Chad E. Jarnagin, please call Nickcole Watkins at 516.900.5674
About the Author: Chad E. Jarnagin is an Anglican priest and Rector of Luminous Anglican Parish as well as an aspirant to the Rule of Saint Benedict. He attended Carson Newman University and Berklee College of Music and is pursuing a Master of Biblical Studies with Veritas College International, as well as a psychology certification for Cognitive Behavior Therapy (CBT) and aspires to work toward a doctorate. Chad has abundant experience as a singer and songwriter, including being the lead singer for Amount Thorns from 2000-2006 and a 2004 GMA DOVE Award Nominee (Gospel Music Association), with over six albums released. He has been the keynote, artist, and workshop speaker for many conferences worldwide. He was named Top Ten 2009 Top Nashville Bloggers and included in the 2013 40 Under 40 Change-Makers in Rejuvenate Magazine. Chad is also the Founder of Luminous Abbey (a contemplative space for Spiritual rest and formation). Member, President's Advisory Council on Faith-Based and Neighborhood Partnerships (2003-2007). A curator and teacher of the Enneagram personality typing system. Chad grew up around Cincinnati, Ohio and has now lived in the Nashville, Tennessee area for over twenty years with his wife and three talented boys.
More About This Title: Learning to BE: Reconstructing Peace & Spiritual Health, by Chad E. Jarnagin, will be released by Morgan James Publishing on February 11, 2020. Learning to BE —ISBN 9781642795240—has 184 pages and is being sold as a trade paperback for $16.99.
About Morgan James Publishing: Morgan James publishes trade quality titles designed to educate, encourage, inspire, or entertain readers with current, consistent, relevant topics that are available everywhere books are sold. ( www.MorganJamesPublishing.com )
 # # #