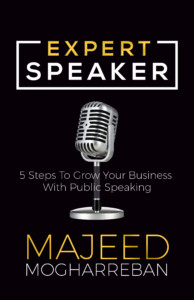 NEW YORK—November 12, 2019—Morgan James' new release, Expert Speaker: 5 Steps To Grow Your Business With Public Speaking by Majeed Mogharreban, offers public speakers tips to get the most out of their skill and build their business. Expert Speaker is a platform building tool that turns casual public speakers in highly paid renowned experts in their field.
The ability to be an excellent public speaker sometimes comes naturally, but more often takes practice. Either way, the know-how to take that skill and monetize it is more complicated. With Expert Speaker, Majeed Mogharreban teaches readers how to level up their skill as a public speaker, attract premium clients, and ultimately grow their business.
Expert Speaker emphasizes that in order to be impactful, a speaker need only be an expert, not the expert. Having worked with everyone from politicians and CEOs to Olympic athletes, Mogharreban's draws from years of experience to share his most powerful and engaging public speaking methods, covering everything from negotiating speaker fees to using the right marketing materials to time management. Whether you're a seasoned public speaker or just starting out, Expert Speaker provides readers all the tools to amplify their message in a way that maximizes their efforts without burning themselves out.
If you would like more information about this topic, or to schedule an interview with Majeed Mogharreban, please call Nickcole Watkins at 516.900.5674.
About the Author: Majeed Mogharreban is a professional speaker, world traveler, and founder of ExpertSpeaker.com. Speaking professionally for 10 years, Majeed has worked with the United Nations, Fairtrade, celebrities, politicians, Olympic medal winners, CEOs, and more to give speeches and tell stories that change the world. He is an international best-selling author and the highest-rated trainer in the world at Learning Tree International. Majeed currently resides in Quebec, Canada with his wife and two children.
More About This Title: Expert Speaker: 5 Steps To Grow Your Business With Public Speaking by Majeed Mogharreban will be released by Morgan James Publishing on November 12, 2019. Expert Speaker—ISBN978-1642794113—has 180pages and is being sold as a trade paperback for $17.95
About Morgan James Publishing: Morgan James publishes trade quality titles designed to educate, encourage, inspire, or entertain readers with current, consistent, relevant topics that are available everywhere books are sold. (www.MorganJamesPublishing.com)
# # #