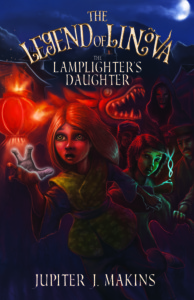 NEW YORK—November 12, 2019—Morgan James' new children's book release, The Legend of Linova: The Lamplighter's Daughter by Jupiter J. Makins, is the fantastical tale of an ordinary girl who discovers she has an extraordinary ability. On her tenth birthday, Sarah Hull learns she can time travel, and from that day on nothing is ever the same.
The Legend of Linova is the first installment in a series about Sarah, the young girl destined to save the land of Linova. Along her way she battles beasts who are trying to hunt her, solves mysteries about her powers, and makes an important friend to go on the journey with her. The Legend of Linova features mythical creatures, magic, and one girl fated to save humanity from dark forces — all themes that appeal to the same audience base that flocks to Harry Potter, The Hunger Games, The Maze Runner, and other such hit young adult fantasy series.
Filled with mystery, whimsy, and adventure, The Legend of Linova is the perfect read for children ages 8 to 12. Children will see themselves in 10 year old Sarah, being able to relate to her roots as an ordinary girl and simultaneously be inspired by the brave feats she takes on. With themes of courage, responsibility, and determination, The Legend of Linova: The Lamplighter's Daughter will engage young readers, while parents can feel good about the positive takeaways their children are absorbing along the adventure.
If you would like more information about this topic, or to schedule an interview with Jupiter J. Makins, please call Nickcole Watkins at 516.900.5674.
About the Author: Jupiter J. Makins has an author, screenwriter, and filmmaker with a passion for sharing positive messages with her young readers. She wrote, directed, and produced, Bigfoot and the Burtons―a family film available on Showtime and Amazon and in countries around the world. Jupiter currently resides in Toronto, Canada and has spent a lot of time in both New York City and Los Angeles, California.
More About This Title: The Legend of Linova: The Lamplighter's Daughter by Jupiter J. Makins will be released by Morgan James Publishing on November 12, 2019. The Legend of Linova—ISBN 978-1642794182—has 226 pages and is being sold as a trade paperback for $13.95
About Morgan James Publishing: Morgan James publishes trade quality titles designed to educate, encourage, inspire, or entertain readers with current, consistent, relevant topics that are available everywhere books are sold. (www.MorganJamesPublishing.com)
# # #