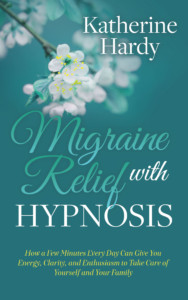 NEW YORK—May 19, 2019—Morgan James' new release, Migraine Relief with Hypnosis: How a Few Minutes Every Day Can Give You Energy, Clarity, and Enthusiasm to Take Care of Yourself and Your Family by Katherine Hardy, is a guide that uses hypnosis techniques to achieve peace of mind. Migraine Relief with Hypnosis was written for anyone whose life has been held back by migraines.
Katherine Hardy understands how debilitating migraines can be. As someone who suffered from chronic migraines herself, Hardy found healing and peace from migraines through hypnosis. Now a full-time hypnotherapist, Katherine Hardy shares her knowledge in Migraine Relief with Hypnosis, in order to help anyone who needs to experience the renewed freedom that comes from erasing their migraines.
Migraine Relief with Hypnosis begins by explaining what hypnosis is and why it is effective for pain relief. Katherine Hardy shows migraine sufferers how to apply hypnosis to their migraines by addressing their immediate physical pain and their emotional stress and past baggage that could be contributing to their health. By following the short and simple self-hypnosis practices explained in Migraine Relief with Hypnosis, migraine sufferers will never lose another day to migraines.
If you would like more information about this topic, or to schedule an interview with Katherine Hardy, please call Nickcole Watkins at 516.900.5674.
About the Author: Katherine Hardy is a 5PATH® Hypnotherapist and 7th Path Self Hypnosis Instructor with a passion for helping others through the power of hypnosis. As a registered nurse, Katherine realized how effective hypnosis could be in helping patients overcome their addictions and pain. Katherine then decided to leave nursing to start her own private hypnosis practice, in which she uses the techniques that stopped her own migraines to end the struggle of others. Katherine currently lives in Bellingham, Washington, where she continues her hypnosis practice.
More About This Title: Migraine Relief with Hypnosis: How a Few Minutes Every Day Can Give You Energy, Clarity, and Enthusiasm to Take Care of Yourself and Your Family by Katherine Hardy will be released by Morgan James Publishing on May 19, 2020. Migraine Relief with Hypnosis— ISBN 9781642796797—has 150 pages and is being sold as a trade paperback for $14.95
About Morgan James Publishing: Morgan James publishes trade quality titles designed to educate, encourage, inspire, or entertain readers with current, consistent, relevant topics that are available everywhere books are sold. (www.MorganJamesPublishing.com)