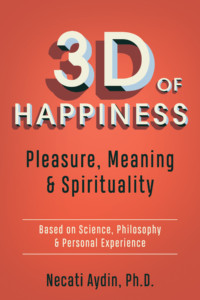 NEW YORK—May 19, 2020—Morgan James' new release, 3D of Happiness: Pleasure, Meaning & Spirituality Based on Science, Philosophy & Personal Experience by Necati Aydin, Ph.D., follows one man's journey as he searches for true happiness. 3D of Happiness was written for anyone struggling to find a lasting source of happiness in their lives.
3D of Happiness covers a personal and scientific journey of searching for happiness through pleasure, meaning, and spirituality. It is the story of a former shepherd, Necati Aydin, who was at the bottom 1% of the world's population, living in complete poverty and deprivation. He managed to acquire two PhDs and climbed to the top 1% in terms of possessions and position. Nonetheless, he failed to achieve happiness along the way.
Necati Aydin understands humanity's search to find real, permanent happiness in their lives, however he claims that most people look in the wrong place. While many search for happiness and fulfillment with pleasure and immediate gratification, Aydin posits that this kind of happiness never lasts. In 3D of Happiness, he shares his journey of having, doing, being, and loving which turned out to be a vicious cycle of deprivation, emulation, accomplishment, and disappointment. Inside, he shares a powerful message through the story of a youth who lived in poverty and only tasted a banana for the first time while attending college but lost the pleasure of this taste when he was able to purchase whatever he desired. Ultimately, he reveals his success in finally discovering three dimensions of happiness through a converging path of science, philosophy, and spirituality.
If you would like more information about this topic, or to schedule an interview with Necati Aydin, Ph.D., please call Nickcole Watkins at 516.900.5674.
About the Author: Necati Aydin, Ph.D. is a professor and former nurse with a wealth of valuable life experiences. Beginning as a shepherd in a society stricken with poverty, Necati ran away from home to become the first in his village to attend college. Necati worked as a nurse, earned two doctoral degrees, and later became a professor. This success brought Necati from poverty to wealth, but did not bring him the happiness he was searching for. After finding true happiness outside of the physical, Necati began sharing his knowledge and experiences with others. Necati currently lives in Windsor, Connecticut.
Reviews: "In addition to being a guide to what matters in the pursuit of happiness, this book spurs an interest in re-examining the many trivialities that are prioritized in our daily lives. The author's own journey is a testament to the power of pursuing the most fruitful dimensions of happiness." Nadine Kamal
"The author has an unpretentious forgiving style that makes the book difficult not to like. The book provides thoughts on the personal perspective of the author as he pursues success and happiness in his personal and professional life from a spiritual, philosophical, and scientific perspective." Asma Aljohani
"Although many books have since antiquity examined the meaning of happiness, in my judgment, no other book is as provocative and intellectually mesmerizing as 3D of Happiness. The author writes flawlessly, seamlessly, and explicates an otherwise complex philosophical topic in a captivating yet detailed manner… The book provides convincing answers to some puzzling happiness stories." Maha Alfaqeeh
"The reality of the events at the beginning of the book touched me to the deepest point, I was amazed by the persistence of the author to achieve what he wanted and how to change his reality which he refused to adapt with, despite all the difficulties that faced him. His strength made me think more than once about all the decisions I've made in my life, it made me believe that nothing is impossible. "Abeer Almunajem
More About This Title: 3D of Happiness: Pleasure, Meaning & Spirituality Based on Science, Philosophy & Personal Experience by Necati Aydin, Ph.D. will be released by Morgan James Publishing on May 19, 2020. 3D of Happiness— ISBN 9781642796971—has 244 pages and is being sold as a trade paperback for $17.95
About Morgan James Publishing: Morgan James publishes trade quality titles designed to educate, encourage, inspire, or entertain readers with current, consistent, relevant topics that are available everywhere books are sold. (www.MorganJamesPublishing.com)