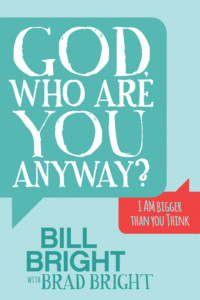 NEW YORK—June 25, 2019—Morgan James Faith's new book release, God, Who are You Anyway? I AM Bigger than You Think by Bill Bright and Brad Bright, helps people understand God on a deeper level. God, Who are You Anyway? was written to help Christians through the challenging moments in their faith.
Human problems, and the way that people deal with these problems, are greatly influenced by the way in which they view God. Every Christian has their own perspective on who God really is, and the deeper this understanding becomes, the more equipped they are to face life's challenges. God, Who are You Anyway? improves Christians' perspective on God and on life.
In God, Who are You Anyway?, Bill Bright addresses burning questions that all Christians ask, regardless of where they are in their walk with God. These questions focus on how Christians see God personally, how it is affecting them, and how to change their wrong perceptions so they can experience the fullness of Him. As Christians' hearts and minds are opened through God, Who are You Anyway?, their problems become opportunities to watch God work in their lives.
If you would like more information about this topic, or to schedule an interview with Brad Bright, please call Nickcole Watkins at 516.900.5674.
About the Author: Bill Bright (October 19, 1921 – July 19, 2003), was the founder and president of Campus Crusade for Christ International. In addition to starting the largest worldwide mission organization, Bill also authored more than 100 books and booklets, and was the driving force behind the creation of the JESUS film.
More About This Title: God, Who are You Anyway? I AM Bigger than You Think by Bill Bright and Brad Bright will be released by Morgan James Publishing on June 25, 2019. God, Who are You Anyway?—ISBN 9781630478698 —has 324 pages and is being sold as a trade paperback for $17.99
About Morgan James Publishing: Morgan James publishes trade quality titles designed to educate, encourage, inspire, or entertain readers with current, consistent, relevant topics that are available everywhere books are sold. (www.MorganJamesPublishing.com)
# # #