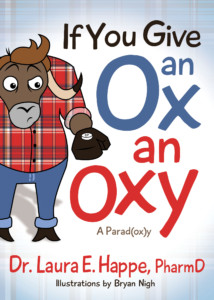 NEW YORK—November 19, 2019—Morgan James' new children's book release, If You Give an Ox an Oxy: A Parod(ox)y by Dr. Laura E. Happe, PharmD, illustrated by Bryan Nigh, is a children's book with a mature lesson. Dr. Happe offers a new version of the familiar illustration of the mouse who was given a cookie to demonstrate the very real problem of opioid addiction.
Tragically, drug abuse often begins in the adolescent years. Thousands of young people die of drug overdoses every year, and the most common cause is opioid usage. In an effort to combat this rising epidemic, Dr. Laura E. Happe was inspired to deliver the important anti-drug message to young people in an approachable, non-threatening way. If You Give an Ox an Oxy presents as a fable, similar to those today's teens read as children. In it, readers meet an ox who takes a prescription opioid, and quickly progresses into abuse and then addiction. If You Give an Ox an Oxy goes on to educate readers about treatment for addiction, while stressing the importance of never trying drugs at all.
Additionally, If You Give an Ox an Oxy's positive impact goes beyond just its readers, as a portion of all proceeds from the book will be distributed to charities that help combat drug use in adolescent communities. If You Give an Ox an Oxy: A Parod(ox)y is an invaluable resource for parents and educators in the battle to end teenage drug use.
If you would like more information about this topic, or to schedule an interview with Dr. Laura E. Happe, PharmD, please call Nickcole Watkins at 516.900.5674.
About the Author: Dr. Laura E. Happe, PharmD, MPH is a pharmacist, researcher, and educator, and an executive leader in the pharmacy and insurance industries. Laura has developed vital new businesses and strategies, including the opioid epidemic response at a Fortune 50 health care company. Laura is chief editor of the peer-reviewed Journal of Managed Care and Specialty Pharmacy and a professor at the University of Florida and Wingate University. She lives with her husband in Charlotte, North Carolina, where they teach their kids that happiness is a choice.
About the Illustrator: After earning a bachelor's degree in 2-D animation from Columbia College Chicago, Bryan Nigh worked in the entertainment industry for 10 years in Los Angeles and Atlanta. Currently an associate producer with Bento Box Animation Studios, Bryan is the creator of the animated short series Brad the Jerk Dog, and has ontributed to several series such as Allen Gregory, Brickleberry, and The Awesomes. He and his wife now live in Kansas City, Missouri.
More About This Title: If You Give an Ox an Oxy: A Parod(ox)y by Dr. Laura E. Happe, PharmD, illustrated by Bryan Nigh, will be released by Morgan James Publishing on November 19, 2019. If You Give an Ox an Oxy—ISBN 978-1642794281—has 24 pages and is being sold as a trade paperback for $12.95
About Morgan James Publishing: Morgan James publishes trade quality titles designed to educate, encourage, inspire, or entertain readers with current, consistent, relevant topics that are available everywhere books are sold. (www.MorganJamesPublishing.com) 
# # #